The Belles (Paperback)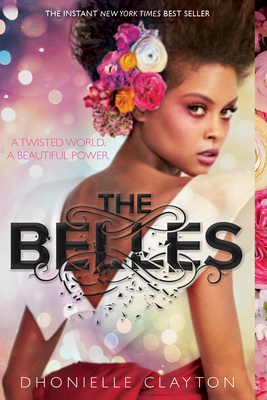 $10.99

In stock with our warehouse--usually ships within 1-7 days. May or may not be in stock at Room.
Spring 2018 Kids' Indie Next List
---
"In a world where people are born gray and sallow, only a Belle and her powers can bring forth beauty. But being a Belle may prove dangerous for Camellia Beauregard, as she discovers in the royal court of Orleans, where secrets and danger lurk behind every sparkling facade. The Belles is a rich, opulent, intoxicating book - reading it feels like eating the most decadent cupcake you've ever tasted in your life. The atmosphere Clayton creates is sumptuous, and her characters are compelling, ambitious, and beautiful, though some only on the outside. I was blown away by this novel and can't wait for the author's next gorgeous book."
— Emily Hall, Main Street Books, St.Charles, MO
About the Author
---
Dhonielle Clayton is the coauthor of the Tiny Pretty Things series. She grew up in the Washington, DC, suburbs on the Maryland side and spent most of her time under her grandmother's table with a stack of books. A former teacher and middle school librarian, Dhonielle is cofounder of CAKE Literary—a creative development company whipping up decidedly diverse books for a wide array of readers—and COO of the non-profit, We Need Diverse Books. She's got a serious travel bug and loves spending time outside of the USA but makes her home in New York City, where she can most likely be found hunting for the best slice of pizza. You can also find her online at www.dhonielleclayton.com or follow her @brownbookworm.
Praise For…
---
"The Belles is full of political drama, palace intrigue, complex and corrupt characters, and deadly betrayals—what better tale for our modern day? Get wrapped up and swept away in this wild and unpredictable new world of fashion, magic, and murder."—Daniel Jose Older, New York Times best-selling author of The Shadowshaper Cypher

"The Belles is full of political drama, palace intrigue, complex and corrupt characters, and deadly betrayals—what better tale for our modern day? Get wrapped up and swept away in this wild and unpredictable new world of fashion, magic, and murder."—Daniel Jose Older, New York Times best-selling author of The Shadowshaper Cypher

"The Belles is absolutely enthralling. Rich with detail and fascinating characters, this book shows us a masterfully crafted world that is both desirable and frightening. I flew through the pages and loved everything they had to offer: an intelligent and talented heroine, mysterious romance, and enduring friendships."—Marie Rutkoski, New York Times best-selling author of The Winner's Trilogy

"The Belles is absolutely enthralling. Rich with detail and fascinating characters, this book shows us a masterfully crafted world that is both desirable and frightening. I flew through the pages and loved everything they had to offer: an intelligent and talented heroine, mysterious romance, and enduring friendships."—Marie Rutkoski, New York Times best-selling author of The Winner's Trilogy

"A lush and intoxicating world where beauty equals power and darkness lurks in every glittering shadow."—Kami Garcia, #1 New York Times bestselling author of Beautiful Creatures & author of The Lovely

"A lush and intoxicating world where beauty equals power and darkness lurks in every glittering shadow."—Kami Garcia, #1 New York Times bestselling author of Beautiful Creatures & author of The Lovely

"Clayton conjures a world both breathtakingly beautiful and deeply unsettling, populated by characters full of strengths and complexities. This is a thought-provoking story that lingers."—Marie Lu, #1 New York Times best-selling author of The Young Elites

"Clayton conjures a world both breathtakingly beautiful and deeply unsettling, populated by characters full of strengths and complexities. This is a thought-provoking story that lingers."—Marie Lu, #1 New York Times best-selling author of The Young Elites

"Clayton dances between the fine lines of glittering, glamorous and gruesome. The Belles is a dazzling exploration of body power and identity, and a must-read for anyone looking for a lot more bite when it comes to beauty."—Roshani Chokshi, New York Times best-selling author of The Star-Touched Queen and A Crown of Wishes

"Clayton dances between the fine lines of glittering, glamorous and gruesome. The Belles is a dazzling exploration of body power and identity, and a must-read for anyone looking for a lot more bite when it comes to beauty."—Roshani Chokshi, New York Times best-selling author of The Star-Touched Queen and A Crown of Wishes

"From the first page, this book completely mesmerized me. Dhonielle Clayton has written a lush, immersive tale about a world where nothing is as it seems. Where beauty and the magic behind it are painted in sinisterly sexy tones. Her characters are complex, yet relatable. This is a book where you will savor every word."—Renée Ahdieh, New York Times best-selling author of The Wrath and the Dawn, The Rose and the Dagger,

"From the first page, this book completely mesmerized me. Dhonielle Clayton has written a lush, immersive tale about a world where nothing is as it seems. Where beauty and the magic behind it are painted in sinisterly sexy tones. Her characters are complex, yet relatable. This is a book where you will savor every word."—Renée Ahdieh, New York Times best-selling author of The Wrath and the Dawn, The Rose and the Dagger,

"I fell head-over-heels with the darkly lush world of The Belles. A book to read when you want to be transported somewhere dangerous and beautiful, where nothing is as it seems, and secrets abound."—Megan Shepherd, New York Times bestselling author of The Madman's Daughter series, The Cage series,

"I fell head-over-heels with the darkly lush world of The Belles. A book to read when you want to be transported somewhere dangerous and beautiful, where nothing is as it seems, and secrets abound."—Megan Shepherd, New York Times bestselling author of The Madman's Daughter series, The Cage series,

"The Belles is a powerful discussion about the cost of beauty and what we are willing to do for it. Dhonielle Clayton creates a world both lush and dark, with prose so delectable you will savor every word."—Zoraida Cordova, author of Labyrinth Lost, The Circle Unbroken, and The Vicious Deep series

"The Belles is a powerful discussion about the cost of beauty and what we are willing to do for it. Dhonielle Clayton creates a world both lush and dark, with prose so delectable you will savor every word."—Zoraida Cordova, author of Labyrinth Lost, The Circle Unbroken, and The Vicious Deep series

"The Belles is a voluptuous, dazzling fairy tale of desire, ambition and unrelenting beauty."—Holly Black, New York Times best-selling author of The Cruel Prince and The Darkest Part of the Fore

"The Belles is a voluptuous, dazzling fairy tale of desire, ambition and unrelenting beauty."—Holly Black, New York Times best-selling author of The Cruel Prince and The Darkest Part of the Fore