Transgressed: Intimate Partner Violence in Transgender Lives (Hardcover)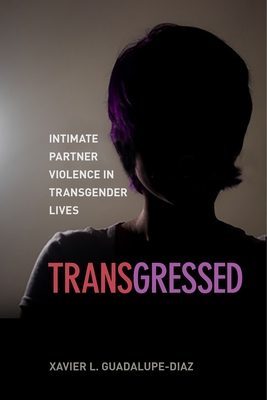 This item is not available to order from Room.
Description
---
Transgender survivors of violence tell their stories
Transgender people face some of the highest rates of violence in the US and around the world, particularly within romantic relationships. In Transgressed, Xavier L. Guadalupe-Diaz offers a ground-breaking examination of intimate partner violence in the lives of transgender people. Drawing on interviews and written accounts from transgender survivors of intimate partner violence, he sheds much-needed light on the dynamics of abuse that entrap trans partners in violent relationships. Transgressed shows how rigidly gendered discussions of violence have served to marginalize and silence stories of abuse. Ultimately, these stories of survival follow their unique journeys as they navigate--and break free--from the cycle of abuse, providing us with a better understanding of their experiences. An emotionally compelling read,
Transgressed
offers new ways of understanding the complexities of intimate partner violence through the eyes of transgender survivors.
About the Author
---
Xavier Guadalupe-Diaz, Ph.D., is an Associate Professor of Sociology and Criminology at Framingham State University in Massachusetts. He's the author of Transgressed: Intimate Partner Violence in Transgender Lives (NYU Press, 2019).