The Horror of It All: One Moviegoer's Love Affair with Masked Maniacs, Frightened Virgins, and the Living Dead... (Hardcover)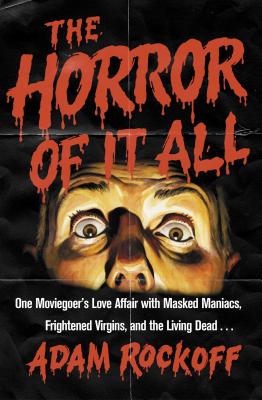 Description
---
Pop culture history meets blood-soaked memoir as a horror film aficionado and screenwriter recalls a life spent watching blockbuster slasher films, cult classics, and everything in between.

Horror films have simultaneously captivated and terrified audiences for generations, racking up billions of dollars at the box office and infusing our nightmares with unrelenting zombies, chainsaw-wielding madmen, and myriad incarnations of ghosts, ghouls, and the devil himself. Despite evolving modes of storytelling and the fluctuating popularity of other genres, horror endures. The Horror of It All is a memoir from the front lines of the industry that dissects (and occasionally defends) the hugely popular phenomenon of scary movies.

Author Adam Rockoff traces the highs and lows of the horror genre through the lens of his own obsessive fandom, born in the aisles of his local video store and nurtured with a steady diet of cable trash. From Siskel and Ebert's crusade against slasher films to horror's Renaissance in the wake of Scream, Rockoff mines the rich history of the genre, braiding critical analysis with his own firsthand experiences. Be afraid. Be very afraid.
About the Author
---
Adam Rockoff is the screenwriter of Wicked Lake, a film so depraved it caused Ron Jeremy to storm out of the theater in anger. However, his 2010 adaptation of the classic exploitation film, I Spit on Your Grave, received nearly unanimous praise from horror critics. His first book, Going to Pieces: The Rise and Fall of the Slasher Film, 1978-1986, a critical examination of the slasher genre, was made into a documentary which premiered on STARZ. When he's not getting his hands bloody, Rockoff runs the television production company, FlashRock Films.
Praise For…
---
Rockoff is an amiable and often amusing guide…a passionate defender of the creative rights of filmmakers, no matter how shocking or disturbing their creations might be, and a convincing advocate for scary movies as transgressive art—or just plain fun."

"Adam Rockoff is the ultimate authority on horror film andfandom, and no one captures the full dimensions of the genre with greater wit,humor, nostalgia and charm. The Horror of it All is bloodybrilliant!"
— Adrienne King, star of "Friday the 13th"

"Adam Rockoff's The Horror of It All may well have been titled Everything You Always Wanted to Know About the Horror Industry… But Were Too Afraid To Ask. It's a no bullshit look at the culture of horror and the films that define it, from a professional who hasn't lost his ability to be a fan. Written with the know-how of an academic and the crackerjack honesty of bathroom graffiti, The Horror of It All will satiate horror hounds and film buffs alike."
— Rodrigo Gudiño, RUE MORGUE

"[Rockoff] knows horror movies like the Colonel knows chicken.... Rockoff's genuine love for the genre shouts from every page."

"Some of the sharpest pop culture criticism you'll find in any medium today, delivered with evocative writing that veers between thoughtful, heartfelt and hilarious….a compulsively readable package that's likely to become the most popular non-fiction book horror aficionados will clamor for this year."

"Adam Rockoff writes from his heart with cleverness and wit as well as a hell of a lot of knowledge. The Horror Of It All is right up there with any classic tome of horror criticism and history."

"The author is a passionate fan of the horror genre in all its forms….The Horror of It All twitches with manic, foul-mouthed, bloggy energy."