To Her Credit: Historic Achievements--And the Women Who Actually Made Them Happen (Hardcover)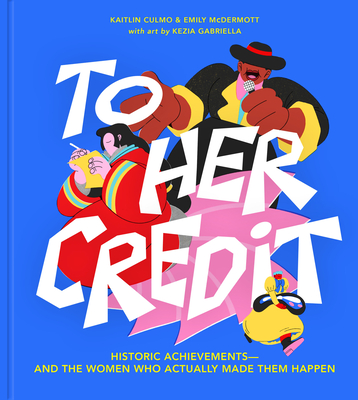 $20.00

In stock with our warehouse--usually ships within 1-7 days. May or may not be in stock at Room.
Description
---
There's history as it's told, and then there's history as it actually happened. You may think you know the stories behind the world's most well-known, groundbreaking achievements, but To Her Credit is here to make you reevaluate our collective story as it has been written. This book celebrates the stories of women, from ancient times until the 1990s, whose contributions have been overwritten and, far too often, accredited to men.
The pattern of female achievements being stolen, overwritten, or straight-up ignored is as old as time. Authors Kaitlin Culmo and Emily McDermott--with stunning art by Kezia Gabriella--reclaim the work of these deserving heroines and offer reminders of what we lose when we don't question history as it has been written.
We're often told that Cervantes "invented fiction" with the novel Don Quixote in 17th century Europe, but what about Lady Murasaki's The Tale of Genji in 11th-century Japan?
Elvis Presley is widely considered as "The King" and--for all intents and purposes--the inventor of rock and roll music. But what about Sister Rosetta Tharpe, who was the first to engineer the rock and roll sound, or Big Mama Thornton, for whom the song "Hound Dog" was explicitly written?
Albert Einstein is a household name and so too is his famed equation E = mc2. But what about his first wife, Mileva Maric, who not only helped with the Nobel Prize-winning discovery, but also collaborated with Albert throughout the pivotal early years of his career?

This book tells the stories of women who have been left out of history's accolades. It's time to talk about the thousands of years' worth of art, inventions, innovations, and world-changing achievements made by women that have been ascribed to men.

About the Author
---
Co-authors Kaitlin Culmo and Emily McDermott have long been friends. They met while studying at New York University, bonding over shared interests at the intersections of literature and culture, feminism and social theory. Kaitlin Culmo is from Miami, Florida, and is currently based in Santa Barbara, California. Her writing and visual storytelling focuses on history and culture. She is a graduate of New York University's Gallatin School of Individualized Study. Emily McDermott lives in Berlin, Germany, and is an independent writer and editor with a focus on visual art and culture. Her writing has been published by numerous magazines, including Wallpaper*, Elle, i-D, W Magazine, Frieze, and ArtReview, among others, and translated into Japanese, Chinese, Czech and German. She has worked on editing projects for institutions and companies such as TASCHEN, Vitra, Art Basel, Design Hotels, David Chipperfield Architects, and the BMW Art Guide. She was a Fulbright fellow in 2016-17 and was previously the digital art, music, and nightlife editor at Interview magazine in New York City. Kezia Gabriella is an art director and illustrator based in Singapore. She is known for her bold and vibrant practice that explores the theme of human connection through abstract shapes and irregular character design. She works with both digital and traditional mediums, and has collaborated with multiple global brands, including Apple, Nike, Rimowa, Refinery29, WeTransfer, and Medium. Her work has been recognized with awards from the World Illustration Awards, D&AD, the 4A's, Marketing Interactive, and the Institute of Advertising, Singapore.