Why Drag? (Hardcover)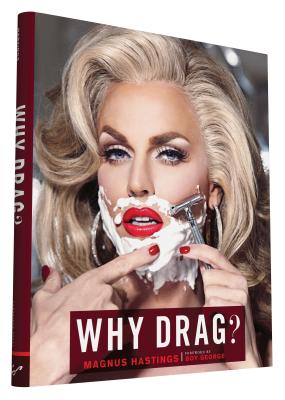 $50.00
Usually Ships in 2-7 Days
Description
---
For over a decade, Magnus Hastings has been photographing the world's greatest drag superstars and asking each of them a simple question: Why drag? The result is this mesmerizing volume in which the queens strut their stuff and reflect on their shared passion through a mixture of quips and philosophizing. Subjects include icons of reality TV and underground drag royalty, and photographs range from the divine to the trashy. Featuring the likes of Bianca Del Rio and Courtney Act, this collection is a beautiful celebration of drag as an art form and an exhilarating exploration of what drag means to its greatest artists.
About the Author
---
Magnus Hastings is a photographer whose work has been featured in various books and magazines and shown in several solo exhibitions. He lives in Los Angeles and London.

Boy George is a singer, songwriter, producer, author, and fashion designer. He lives in London.
Praise For…
---
"KICK OFF YOUR HEELS AND READ A BOOK Showgirl. Monster. Housefrau. Sexpot. Drag in these and many other personas is the subject of 'Why Drag?,' a new coffee-table book of portraits by the photographer Magnus Hastings. The luxe portfolio, with a foreword by the gender provocateur Boy George, features over 200 drag queens from around the world. There are celebrity queens, like New York's veteran night life hostess Lady Bunny, looking coy in rabbit ears and black opera gloves, but also under-the-radar gals like Nina West of Columbus, Ohio, dressed as a nutty Valkyrie. 'To me drag is an art form with no rules,' Mr. Hastings writes in his introduction, 'and my shots are a celebration of that.'"
-The New York Times

"In drag culture - where pushing boundaries is the exception rather than the rule - there will always be a need to stand up for grit. Inside the pages of Magnus Hasting's vibrant new coffee-table book, pageant queens strut in full regalia while waiting for a bus, Bianca Del Rio digs into a Barbie doll with pins and needles, and Adore Delano gives great face in front of a McDonald's while rocking a Budweiser one-piece. Hastings' spent two years travelling the country to shoot the queens and learn why they do drag. The book offers their answers in the form of short stories that are marked by their humor and, oftentimes, sincerity. And then, of course, there are the gorgeous photos."
-EDGE

"The book features Hastings' gorgeous photos of the drag industry's top talent, accompanied by short stories- marked by humor and, oftentimes, sincerity- on why they do drag."
-Hotspots Magazine