My Notorious Life: A Novel (Paperback)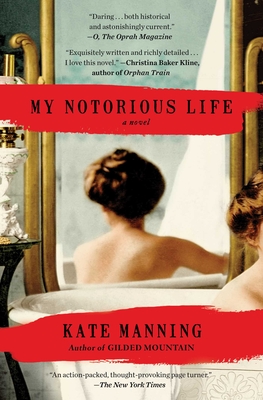 $17.00
Usually Ships in 1-5 Days
Description
---
Inspired by a real midwife who became one of the most controversial figures in Victorian New York City, this "daring page-turner" (O, The Oprah Magazine) is an unforgettable tale—a love story, a family saga, and the confessions of a charismatic and passionate woman who changed the lives of countless others.

Meet the incomparable Axie Muldoon. Axie's story begins on the streets of 1860s New York. The impoverished child of Irish immigrants, she grows up to become one of the wealthiest and most controversial women of her day. In vivid prose, Axie recounts how she is forcibly separated from her mother and siblings, apprenticed to a doctor, and how she and her husband parlay the sale of a few bottles of "Lunar Tablets for Female Complaint" into a thriving midwifery business. Flouting convention and defying the law in the name of women's rights, Axie rises from grim tenement rooms to the splendor of a mansion on Fifth Avenue, amassing wealth while learning over and over never to trust a man who says "trust me."

When her services attract outraged headlines, Axie finds herself on a collision course with a crusading official—Anthony Comstock, founder of the Society for the Suppression of Vice. It will take all of Axie's power to outwit him in the fight to preserve her freedom and everything she holds dear. Inspired by the true history of an infamous physician who was once called "the Wickedest Woman in New York," Kate Manning is "writing in the venerable tradition of Stephen Crane…those social reformers knew that a powerful tale with memorable characters could draw us into the heat of social debates like nothing else" (The Washington Post).
About the Author
---
Kate Manning is the author of the critically acclaimed novel Whitegirl. A former documentary television producer and winner of two Emmy Awards, she has written for the New York Times, Glamour, and More magazine, among other publications. She has taught writing in the English Department at Bard High School Early College and lives with her family in New York City.
Praise For…
---
"Not just a splendidly page-turning story of an angry orphan clawing her way up in the world, but a gripping docu-drama about women's business (in several senses) in nineteenth-century America. My Notorious Life gives midwifery its full dues: the glories and the miseries, the feminism and the money, the literally bloody ethical dilemmas. Unflinchingly memorable."
— Emma Donoghue, author of Room

Kate Manning has taken a little known nugget of history and spun it into a remarkable novel that is mesmerizing and resonant. Her New York City of the late nineteenth century is passionately evoked, and Axie Muldoon is as fierce and alive a character as I have read in recent fiction. In its exploration of a subject no less pressing now than it was over a hundred years ago, My Notorious Life is an essential novel for our time."
— Marisa Silver, author of Mary Coin

"My Notorious Life is wonderful fun. The wit and verve of its unsinkable heroine make this novel a delight to read, even in its most harrowing passages. Beyond that, it's a book that matters—now more than ever. Faithfully true to the time of its setting, it is also extremely relevant to ours."
— Madison Smartt Bell, author of The Color of Night

"My Notorious Life is a must read for anyone who likes their novels smart, entertaining and provocative. Axie Muldoon's lively, remarkable story begins with an unexpected death and an identity switch and never lets up until the end. Masterful."
— Whitney Otto, author of Eight Girls Taking Pictures

"A rollicking romp through 19th-century American contraception inspired by the true story of a Manhattan midwife… highlight[s] controversies regarding 'reproductive health' that are still raging today. Axie's profane Irish brogue is vividly recreated… her voice never fails to entertain."
— Kirkus Reviews

"Manning paints a vivid portrait of this daring yet deeply compassionate woman who is willing to flout convention and defy the law in the name of women's reproductive rights… it's the details of Madame X's private life, told in her thick Irish brogue—about the search for her long-lost siblings, her fiery relationship with her devoted husband, and her growth as a mother—that lend a human face to a this sensational figure."
— Publishers Weekly, starred review

"Manning's novel is based on the life of Ann Lohman, a New York City midwife… its historical setting and language [are] densely and effectively styled."
— The New York Times Book Review

"Paint[s] a landscape of old New York that's both quaint and terrifying, where love can be bartered over a back-stoop picnic and slander awaits around cobblestoned corners. Come for the notoriety, stay for the sympathy."
— The Daily Beast

"An inspiring, thought-provoking work of historical fiction that is a testament to the strength of the human spirit."
— Real Simple

"Racing along the back alleys and posh avenues of Manhattan… Axie's fiery story [keeps] burning right to the end."
— Ron Charles

"Based on the life of a controversial 1860s New York City midwife, this involving novel combines romance, family saga and social history to winning effect."
— People

"Manning has created an unforgettable character driven by determination and conscience."
— Donna Marchetti