Loving Orphaned Space: The Art and Science of Belonging to Earth (Paperback)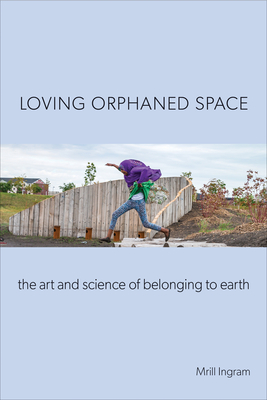 $24.95

In stock with our warehouse--usually ships within 1-7 days. May or may not be in stock at Room.
Description
---
How we relate to orphaned space matters. Voids, marginalia, empty spaces—from abandoned gas stations to polluted waterways—are created and maintained by politics, and often go unquestioned. In Loving Orphaned Space, Mrill Ingram provides a call to action to claim and to cherish these neglected spaces and make them a source of inspiration through art and/or remuneration. 
Ingram advocates not only for "urban greening" and "green planning," but also for "radical caring." These efforts create awareness and understanding of ecological connectivity and environmental justice issues—from the expropriation of land from tribal nations, to how race and class issues contribute to creating orphaned space. Case studies feature artists, scientists, and community collaborations in Chicago, New York, and Fargo, ND, where grounded and practical work of a fundamentally feminist nature challenges us to build networks of connection and care. 
The work of environmental artists who venture into and transform these disconnected sites of infrastructure allow us to rethink how to manage the enormous amount of existing overlooked and abused space. Loving Orphaned Space provides new ways humans can negotiate being better citizens of Earth.
About the Author
---
Mrill Ingram is a Geographer and Participatory Action Research Scientist at the Center for Integrated Agricultural Systems at the University of Wisconsin–Madison. She is the coauthor of The Power of Narrative in Environmental Networks.
Praise For…
---
"In a time when people need places to gather and be outside in nature, Loving Orphaned Space is an essential guide for how to activate forgotten spaces in our landscape. It strikes the perfect balance of being inspiring and practical. With lively examples and impressive research, Ingram took me by the hand and walked me through the nuances of working with orphaned spaces. If only I had this book when I started out as an eco-artist!"—Stacy Levy, artist
"In this remarkable book, Mrill Ingram challenges us to think of vacant land not as abandoned but as orphaned. She takes us on tours where we meet communities and artists who have adopted orphaned land and are using community art to care for these places. Ingram's stories have changed the way I see and think about the land around me. I now see orphaned land wherever I go, and because of this book, I know how—and why—to love and care for these places."—Samuel Dennis Jr., Professor of Planning and Landscape Architecture and Director of the Environmental Design Lab at the University of Wisconsin–Madison
"As a result of the book's cross-categorical structure, it has a broad range of appeal, connecting ecological restoration to activism, social justice, art and environmentalism, and public engagement. It also presents a model for collaboration: bringing together artists and scientists to work with community groups. I can envision an urban planning studio project focusing on caring for orphaned space as a rich and meaningful life experience for students."
—
Journal of Urban Affairs
"
Loving Orphaned Space
offers important insights into nature-society relations regarding dwelling, home and belonging, and a conceptual framework about processes of disconnection that also materialize in housing.... [T]he book is recommended to urban scholars, artists, activists, or anyone with an interest in ecological restoration, maintenance and repair studies, feminist ethics, or creative and collaborative knowledge production."
—
Housing Studies