How to Survive Anything: Shark Attack, Lightning, Embarrassing Parents, Pop Quizzes, and Other Perilous Situations (Paperback)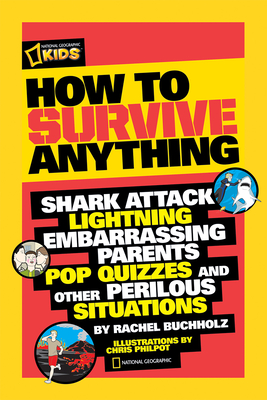 $12.95

In stock with our warehouse--usually ships within 1-7 days. May or may not be in stock at Room.
Description
---
Let's face it. With school pressures, social pressures, parental pressures...the teenage years are tough. Your best friend is with you one day, dating your crush the next. But it could be worse! You could be face-to-face with an angry grizzly, or chest-deep in quicksand. Never fear, National Geographic has the solution! In this hilariously informative take on surviving the trials of middle school and the jungles of South America, we combine our expertise on nature and adventure with the fun-and-learning approach of our Nat Geo style...and voila, the perfect advice to conquer any obstacle, whether it threatens life or social status or both. Edgy, young, authoritative, and amusingly illustrated, this title will grab the attention of young teens and gift-buyers alike.
About the Author
---
Rachel Buchholz is the executive editor of National Geographic Kids and National Geographic Little Kids magazines in Washington, DC. In her more than 15 years of editing, she has found some of the world's most amazing stories about animals. She is the author of the Children's Choice–nominated book How to Survive Anything: Shark Attack, Lightning, Embarrassing Parents, Pop Quizzes, and Other Perilous Situations and a former editor at Boys' Life magazine in Dallas.