Six Chukkers of Love (Hardcover)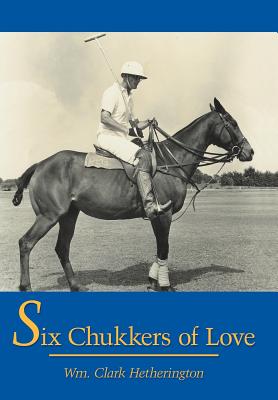 $24.95

Usually Ships in 2-7 Days
All sales of this book are final--it is print on demand and may take up to 3 weeks to arrive.
Description
---
Six Chukkers of Love is more than Clark Hetherington's autobiography. It is a first-hand account of the history of polo in the United States post World War II. Clark knew all of the movers and shakers, great players and sundry characters that were responsible for polos growth and development. His book is filled with wonderful stories of these individuals and their enthusiasm for the sport. These pages portray not only his love of polo and his important role in its growth but also the influential roles played by each of many other individuals. At the National Museum of Polo and Hall of Fame part of our mission is to preserve, record, and archive the history and tradition of polo. Much of what Clark has written in these pages are anecdotes of personal experiences no where else previously documented. The anecdotes and stories convey what all of us who live the sport know to be the true flavor of its tradition. Our heartfelt gratitude goes out to the author for preserving this history. Six Chukkers of Love is another chapter in Clark Hetherington's dedicated service to the sport of polo. In 2004, the National Museum of Polo and Hall of Fame recognized his lifetime contributions with the Iglehart Award. Some of these contributions are briefly outlined on the plaque in his honor at the Museum as follows: He spent a lifetime dedicated to polo. An avid player since age 7. He later captained the Oklahoma University team. He started Broad Acres Polo Club in 1954 and served four years as USPA circuit governor. At his own expense, he produced educational films such as Charlie Chukker and an umpire training presentation. Clark has been called by many, "The father of professional umpiring". He tirelessly promoted a uniform standard for all umpires to the USPA and to clubs around the country. After his appointment as USPA chief umpire, he developed umpire training programs and conducted numerous clinics across the nation, furnishing horses and equipment. More than 250 polo players, including several Hall of Fame inductees, claim Hetherington as their mentor. I know the many friends Clark has made over the years on the polo field will enjoy reading through these pages. Undoubtedly, they will arouse in each reader treasured memories of polo fun. For me and countless others in the sport, his career has been a wonderful influence and example. Stephen Orthwein Chairman National Museum of Polo and Hall of Fame.