The Derby Daredevils: Kenzie Kickstarts a Team: (The Derby Daredevils Book #1) (Hardcover)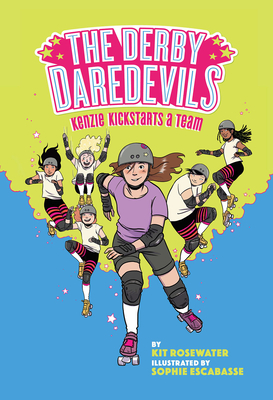 $14.99
Usually Ships in 1-5 Days
About the Author
---
Kit Rosewater has a master's degree in children's literature from Hollins University. The Derby Daredevils series is her debut. She lives in Albuquerque, New Mexico. Find her online at kitrosewater.com. SophieEscabasse is the author-illustrator of the forthcoming graphic novel trilogy The Witches of Brooklyn. She lives in Brooklyn, New York with her family. Find her online at esofii.com.
Praise For…
---
**STARRED REVIEW**
"This a great pick about fierce young ladies coming together though sports. The book has loads of action and plenty of heart, running with themes of friendship, being a good communicator, dealing with jealousy, and even a little sprinkle of how it feels to have a crush on someone you think is just the coolest person ever. Memorable characters and frequent illustrations bring the story to life and will make anyone want to get their derby on."
— Booklist
**STARRED REVIEW**
"In her wonderful debut, Rosewater gives readers a look into the world of roller derby and what it entails, while depicting a relatable story of shifting young friendships... A great addition to juvenile sports fiction for school and public libraries. Perfect for fans of Victoria Jamieson's Roller Girl, and readers seeking stories about sports-loving girls supporting each other."
— School Library Journal
"A lighthearted celebration of life, friendship, and rolling with the punches."
— Kirkus Reviews
"Relatable, empathic series debut introduces readers to the fast-paced sport of roller derby and hints at interesting backstories for Kenzie's teammates."
— Publishers Weekly