Batista Unleashed (Paperback)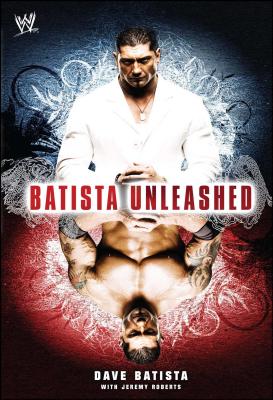 $19.99

In stock with our warehouse--usually ships within 1-7 days. May or may not be in stock at Room.
Description
---
People around the world know Dave Batista as World Wrestling Entertainment's "the Animal," the rope-shaking, spine-busting World Heavyweight Champion, one of the most popular Superstars in recent years.The crowd turned Batista from heel to babyface after they were electrified by his awesome physique and physical wrestling style.

Few fans, however, know that Batista didn't join the profession until he was thirty years old -- an age at which many wrestlers are thinking about hanging up their boots. Nor do most fans know the tremendous toll the climb to the top has taken on Batista's personal life. While successfully staying away from hard drugs and -- usually -- liquor, he found sex too tempting to resist.

"Women were my drug of choice," the Animal confesses. That addiction cost him his marriage, destroying a relationship that had helped him climb from poverty to the pinnacle of sports entertainment in less than two years.

Now, in Batista Unleashed, the WWE Superstar comes clean about the choices he made and the devastating effects they had on his family. He talks about the injury that stripped him of his title -- an injury he blames on Mark Henry's carelessness. While being sidelined cost Batista untold hundreds of thousands of dollars in lost income, it also set the stage for a tremendous comeback that cemented the Animal's reputation as a true champion.

Batista talks about growing up in the worst part of Washington, D.C., where three murders occurred in his front yard before he was nine. He speaks lovingly about his mother -- a lesbian -- and how hard she worked to keep the family not just together but alive. He talks candidly about his own criminal past: a conviction on a drug charge and another, since overturned, on assault. He speaks of his days as a bouncer and a lifeguard, and tells how bodybuilding may have saved his life.

Once he made it to the WWE, Batista realized he wasn't really ready for the big time. His career seemed headed for a fall until Fit Finlay took him under his wing. But his real education came when he joined Evolution and rode with Triple H and Ric Flair, two of sports entertainment's all-time greats. Batista talks about what they taught him, and details some of their wild times on the road.

But the champ also reveals a kinder, gentler side. While his soft-spoken manner in the locker room has sometimes been misinterpreted as arrogance, in truth Batista's always been somewhat shy and quiet. Emotional by nature, he reveals for the first time that the tears fans saw at WrestleMania 21, when he won the World Heavyweight Championship for the first time, were very real. And he speaks movingly about his problems with his ex-wives and teenage daughters, and how it felt to become a grandfather.

While his straight-shooting mouth has occasionally gotten him into trouble -- most notably in a backstage confrontation with Undertaker after some remarks about SmackDown! -- Batista is his own harshest critic. He explains his early limitations as a wrestler and the work he has done to overcome them. Interspersing his memoir with accounts from life on the road, Batista lightens the narrative with a surprising sense of humor. An Animal in the ring, he reveals himself as an honest and even humble man in everyday life.
About the Author
---
Jeremy Roberts (cowriter) has written on a variety of subjects. His nonfiction work includes biographies of Mussolini and Joan of Arc for A&E Books.