Batman: Earth One Vol. 3 (Hardcover)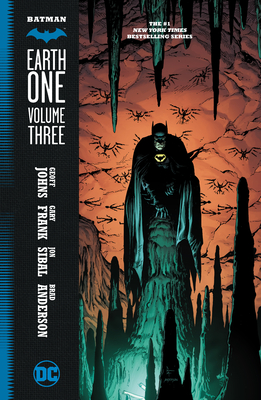 $24.99

In stock with our warehouse--usually ships within 1-7 days. May or may not be in stock at Room.
Description
---
Harvey Dent is dead. Or is he?

A gang of thieves thrusts Gotham City into a state of fear when they are mysteriously well-armed with military-grade weapons: flamethrowers, grenade launchers, and even tanks.

And this gang claims it is funded by none other than former district attorney Harvey Dent.

Balancing his two lives, Bruce Wayne must find the truth by tapping his growing network of agents, including Alfred Pennyworth, Jim Gordon, Waylon "Killer Croc" Jones, and the savvy new Catwoman.

Bruce is distracted by the seemingly impossible return of another figure believed dead: his grandfather Adrian Arkham. He must also comfort his longtime friend, Gotham City mayor Jessica Dent, who is scarred both physically and mentally from her experience with the Riddler, which resulted in the gruesome death of her brother.

But is Harvey back, plotting revenge on a city he proclaims to be guilty?

When Batman discovers the truth behind these many mysteries, his entire world unravels...

Batman: Earth One Vol. 3 is written by Geoff Johns with art by Gary Frank, Jon Sibal and Brad Anderson.
About the Author
---
Geoff Johns is an award-winning writer and one of the most popular contemporary comic book writers today. Johns is the author of the New York Times bestselling graphic novels Aquaman: The Trench, Blackest Night, Green Lantern: The Sinestro Corps War, Justice League: Origin, Superman: Brainiac, and Batman: Earth One, which hit #1 on the bestseller list. He is also known for transforming Green Lantern into one of the most critically and commercially successful franchises in comics. Johns was born in Detroit and studied media arts, screenwriting, and film at Michigan State University. After moving to Los Angeles, he became an assistant to Richard Donner, director of Superman: The Movie. He and his mentor Donner later co-wrote Superman: Last Son, featuring the return of General Zod. Johns has written for various other media, including episodes of Smallville, Arrow, and Adult Swim's Robot Chicken, for which he was nominated along with his co-writers for an Emmy. Johns was an executive producer on the 2016 film Batman v Superman: Dawn of Justice and co-wrote the 2017 hit film Justice League as well as the upcoming Wonder Woman 1984 film starring Gal Gadot. Johns currently resides in Los Angeles, California.