Sal and Gabi Break the Universe (A Sal and Gabi Novel, Book 1) (Hardcover)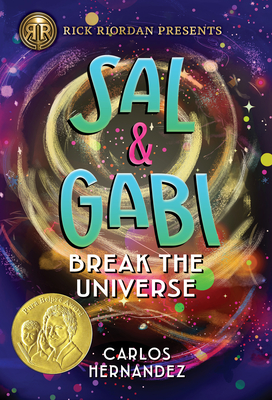 $16.99
Usually Ships in 1-5 Days
Other Books in Series
This is book number 1 in the A Sal and Gabi Novel series.
Staff Reviews
---
I listened to the incomparable audiobook of this delightful novel via libro.fm, and can't recommend it enough, especially for families who like to enjoy listening to books with their kids! This middle grade novel is funny, sharp, and wise, with incidental diversity of so many kinds without feeling like you're checking diversity points off a list. Anthony Rey Perez's recording is A perfect, his snarky inflection, effortless voicing of a variety of characters, and ability to slide easily between English and Spanish with native ease make him a perfect choice for this heavily Latinx and Cubano book. Sweet and funny interactions between middle schoolers whose intelligence more often than not gets them into more trouble than it's worth, a hefty dose of magic, and a very heart-wrenching grapple with grief and loss, both potential and real, make this a truly special book. — From Gretchen's Picks
About the Author
---
Carlos Hernandez has published more than thirty works for fiction, poetry, and drama, most notably a book of short stories for adults entitled The Assimilated Cuban's Guide to Quantum Santeria. He is an English professor at City University of New York, and he loves to both play games and design them. He lives with his wife, Claire, in Queens, New York. Follow him on Twitter: @WriteTeachPlay.
Praise For…
---
"Carlos Hernandez rips through the fabric of space and pulls out a treat to rival the greatest of Sal's dad's famous ice cream sundaes. The ingredients: humor, a dash of metaphysics, and a cast of unforgettable characters. Sal and Gabi may have broken the universe, but they won my heart!"—Gordon Korman, #1 best-selling author of Swindle and Slacker

"If Harry Houdini, Mr. Rogers, and Dr. Stephen Hawking wrote a book together, it might come close to the wonder, magic, and metaphysics of Carlos Hernandez's Sal and Gabi Break the Universe, but only Hernandez can bring the magnificent Sal Vidon, the brilliant Gabi Real, their families, and fellow students at Culeco Academy of the Arts to life. This book is a delight and a must-read."—Fran Wilde, Hugo, Nebula, and World Fantasy Award Finalist; author of Updraft

"This book is good-hearted, funny, magical, and absolutely unputdownable. I fell in love with all the characters and want to keep reading about them forever."—Tina Connolly, author of the Seriously Wicked series

"Sal and Gabi Break the Universe is beautiful, bonkers, and filled to the brim with a fiercely unstoppable joy."—William Alexander, National Book Award-winning author of A Properly Unhaunted Place

"I love this book in every possible universe! With a surprise on every page and two of the most cosmically awesome, vividly unique heroes I've ever read, this sweet, hilarious book made me so, so happy. Everybody read this book! It will bring you joy and save the world/multiverse!"—Tui T. Sutherland, author of the New York Times best-selling Wings of Fire series

*"This vibrant tale from Cuban-American Hernandez (The Assimilated Cuban's Guide to Quantum Santeria for adults) is peppered with Spanish dialogue and slang, filled with mouthwatering plates of Cuban cuisine, and highly inclusive, featuring a sprawling, memorable cast, including Gabi's collection of gender-spanning dads. A nonstop sense of wonder accompanies a genuinely heartwarming and humorous tone, and Sal and Gabi are clearly a fictional team destined for greatness."—Publishers Weekly (starred review)

*"The story moves quickly, with lots of multiverse traffic, school hijinks, and strong, smart, diverse characters. Most are Cuban-American in various shades of brown, like Sal, Gabi, and Yasmany, and Hernandez effortlessly folds in multiple intersectionalities, including Sal's diabetes and Gabi's unusual, delightfully matter-of-fact family structure. Secondary characters receive as much care and love as the primary cast, and readers will find themselves laughing out loud and rooting for Sal, Gabi, and even Yasmany until the very end. This book, drenched in Cuban Spanish and personality, is a breath of fresh air."—Kirkus Reviews (starred review)

*"Artfully balancing sf antics with a meaningful exploration of grief, Hernandez fills his fast-paced novel with an intriguing blend of sf, folklore, and Cuban culture and populates it with delightfully well-rounded, clever, and exceptionally kind characters, all in a lively, distinctive voice. With a compelling cliff-hanger ending, this engrossing adventure is sure to leave readers excitedly anticipating the next installment."—Booklist (starred review)

*"Delightfully weird, this is unlike any other book in the middle grade canon. Hernandez has managed to include conflict and excitement into his first novel for young people . . . Fans who enjoyed Madeleine L'Engle's A Wrinkle in Time and Rick Riordan's works will love Sal and Gabi, as will readers looking for upbeat fiction with Spanish-speaking characters. Hernandez offers a rip-roaring and emotionally resonant sci-fi adventure. A must-have for middle school or upper elementary libraries . . ." —School Library Journal (starred review)