Songs of Irie (Hardcover)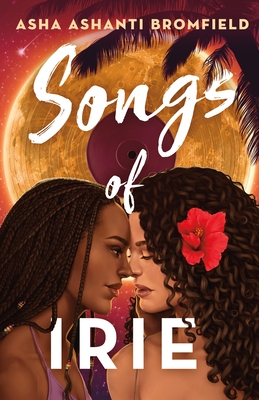 $20.00

In stock with our warehouse--usually ships within 1-7 days. May or may not be in stock at Room.
Description
---
"A devastating and nuanced look at two teens' battle for freedom, hope, independence, and love." - Publishers Weekly (starred review)

Perfect for fans of The Black Kids, Songs of Irie is a sweeping coming-of-age novel from Asha Bromfield about a budding romance struggling to survive amidst the Jamaican civil unrest of the 1970s.

It's 1976 and Jamaica is on fire. The country is on the eve of important elections and the warring political parties have made the divisions between the poor and the wealthy even wider. And Irie and Jilly come from very different backgrounds: Irie is from the heart of Kingston, where fighting in the streets is common. Jilly is from the hills, where mansions nestled within lush gardens remain safe behind gates. But the two bond through a shared love of Reggae music, spending time together at Irie's father's record store, listening to so-called rebel music that opens Jilly's mind to a sound and a way of thinking she's never heard before.

As tensions build in the streets, so do tensions between the two girls. A budding romance between them complicates things further as the push and pull between their two lives becomes impossible to bear. For Irie, fighting—with her words and her voice—is her only option. Blood is shed on the streets in front of her every day. She has no choice. But Jilly can always choose to escape.

Can their bond survive this impossible divide?

Asha Bromfield has written a compelling, emotional and heart-rending story of a friendship during wartime and what it means to fight for your words, your life, and the love of your life.
About the Author
---
ASHA ASHANTI BROMFIELD is an actress, singer, producer and writer of Afro-Jamaican descent. She is known for starring in CW's Riverdale, and Netflix's Locke and Key. Her name means Life, and she is a lover of it. She currently lives between LA and Toronto, where she enjoys nature, family, and walking her dog Luka. She's the author of Hurricane Summer and Songs of Irie.
Praise For…
---
Praise for Songs of Irie:

CBC, "25 Canadian YA books to read in fall 2023", "All the Canadian books we're excited about this fall", "The CBC Books fall reading list: 40 Canadian books to read this season", and "20 Canadian books to give to kids and teens this holiday season"

Goodreads, "Our Big Preview of Fall's Most Anticipated Young Adult Books"

The Root, "October 2023 Books By Black Authors I Can't Wait to Read"

Publishers Weekly, "New and Noteworthy Children's and YA Books: October 2023"

"Dramatic, deeply sensual." - Booklist

"A devastating and nuanced look at two teens' battle for freedom, hope, independence, and love." - Publishers Weekly (starred review)

"The relationship between Jilly and Irie is heartbreakingly comparable to Romeo and Juliet, and the two stand out as realistic, complex teens whose strong chemistry evolves into a romance doomed to fail in their political environment." - The Bulletin of the Center for Children's Books

"Jamaican history, provocative lyricism, and relatable characters form an effective foundation for this bittersweet queer love story...A richly intimate novel of rebellion, romance, and reggae." - Kirkus

"An arresting, romantic coming-of-age story set during a time of intense political violence in Jamaica." - Shelf Awareness

"Songs of Irie is a powerful and urgent reminder of what's worth fighting for in a world determined to tear you apart. Irie and Jilly's love for one another is boldly vulnerable, achingly real, and absolutely unforgettable. Bromfield is a bright, burning talent with a voice that demands—and deserves—to be heard. A stunning book." — Courtney Summers New York Times bestselling author of I'm The Girl

Praise for Hurricane Summer:

"... sharp observations about cultural difference, class implications, economic privilege, and colorism... Prose about Tilla's reflections and the glory of the countryside is accessible yet sumptuous..." —The Bulletin for the Center for Children's Books

"This is an excellent examination of the ways wealth, gender, and color can shape and at times create mental and emotional fractures. Verdict: A great title for public and high school libraries looking for books that offer a ­nuanced look at patriarchy, wealth, and gender dynamics." —School Library Journal (starred review)

"Bromfield may have made a name for herself for her role on Riverdale, but with this debut, about a volatile father-daughter relationship and discovering the ugly truths hidden beneath even the most beautiful facades, she is establishing herself as a promising writer...this is a must." —Booklist (starred review)

"Searingly beautiful, heartfelt, and full of strength. I could not put it down and even when done, I held it tight to my heart. Bromfield is the storm we've all been waiting for." —Tiffany D. Jackson, New York Times bestselling author of Grown and Monday's Not Coming

"Hurricane Summer is a gorgeous story that radiates with resilience and bravely drops hard truths. Asha Bromfield will take readers by storm in her captivating debut about discovering yourself when your world is out of control." —Adam Silvera, New York Times bestselling author of They Both Die at the End

"Stunningly written. An unflinching coming-of-age novel that bravely demands an audience to the cost of life's pain & the rewards of all its beauty. Wow." —Courtney Summers, New York Times bestselling author of Sadie