What Feasts at Night (Sworn Soldier #2) (Hardcover)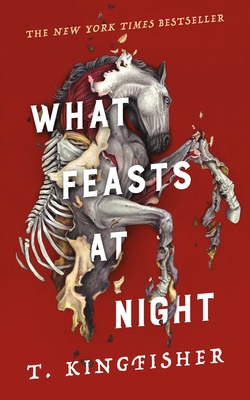 $19.99

Coming Soon - Available for Pre-Order Now
Other Books in Series
This is book number 2 in the Sworn Soldier series.
Description
---
The follow-up to T. Kingfisher's bestselling gothic novella, What Moves the Dead.

Retired soldier, Alex Easton, returns in a horrifying new adventure.

After their terrifying ordeal at the Usher manor, Alex Easton feels as if they just survived another war. All they crave is rest, routine, and sunshine, but instead, as a favor to Angus and Miss Potter, they find themself heading to their family hunting lodge, deep in the cold, damp forests of their home country, Gallacia.

In theory, one can find relaxation in even the coldest and dampest of Gallacian autumns, but when Easton arrives, they find the caretaker dead, the lodge in disarray, and the grounds troubled by a strange, uncanny silence. The villagers whisper that a breath-stealing monster from folklore has taken up residence in Easton's home. Easton knows better than to put too much stock in local superstitions, but they can tell that something is not quite right in their home. . . or in their dreams.
About the Author
---
T. KINGFISHER (she/her) writes fantasy, horror, and occasional oddities, including Nettle & Bone, What Moves the Dead, and A House with Good Bones. Under a pen name, she also writes bestselling children's books. She lives in North Carolina with her husband, dogs, and chickens who may or may not be possessed.
Praise For…
---
Praise for What Moves the Dead:

"A grotesque romp! It takes up residence beneath your skin and refuses to leave."—Caitlin Starling, USA Today bestselling author of The Death of Jane Lawrence

"Thoroughly creepy and utterly enjoyable."—Publishers Weekly

"Creepy, claustrophobic, and completely entertaining, What Moves the Dead left me delightfully repulsed. I adored this book!"—Erin A. Craig, New York Times bestselling author of House of Salt and Sorrows

"T. Kingfisher spins biting wit, charm and terror into a tale that will make your skin crawl. Poe would be proud!"—Brom, author of Slewfoot

"Dissects the heart of Poe's most famous tale and finds a wholly new mythology beating inside it. …Pure fun."—Andy Davidson, author of The Boatman's Daughter

"What Moves the Dead is a must-read, period."—Jordan Shiveley, author of Hot Singles In Your Area

"A gothic delight!"—Lucy A. Snyder, author of Sister, Maiden, Monster

"A fluid technicolor reimagining of Poe's "House of Usher" that takes no prisoners. . . Not to be missed."—Brian Evenson, author of Last Days

"Perfectly hair-raising in all the right ways."—Premee Mohamed, author of Beneath the Rising