Valiant Ladies (Hardcover)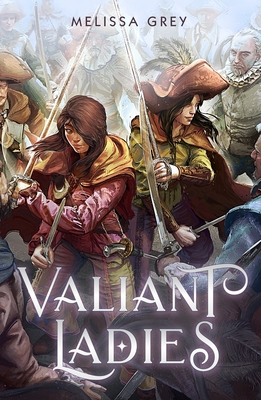 $18.99
This item is out of stock with our warehouse. Some recently published books may be in stock @ Room. Email to check.
Description
---
Two teen vigilantes set off on an action-packed investigation to expose corruption and deliver justice in Valiant Ladies, Melissa Grey's YA historical fiction novel inspired by real seventeenth century Latinx teenagers known as the Valiant Ladies of Potosí.

By day Eustaquia "Kiki" de Sonza and Ana Lezama de Urinza are proper young seventeenth century ladies. But when night falls, they trade in their silks and lace for swords and muskets, venturing out into the vibrant, bustling, crime-ridden streets of Potosí in the Spanish Empire's Viceroyalty of Peru. They pass their time fighting, gambling, and falling desperately in love with one another.

Then, on the night Kiki's engagement to the Viceroy's son is announced, her older brother—heir to her family's fortune—is murdered. The girls immediately embark on a whirlwind investigation that takes them from the lowliest brothels of Potosí to the highest echelons of the Spanish aristocracy.

Praise for Valiant Ladies:
"Ana and Kiki are the sword lesbians of my dreams. This is the queer Latina historical fantasy you didn't know you wanted until you got it—and then you'll want more." —Sam Maggs, author of The Unstoppable Wasp: Built on Hope

"Grey's actionpacked love story offers a fresher, more nuanced take on The Three Musketeers, with a fastpaced plot and well-developed characters... Kiki and Ana are not the traditional demure ladies that swoon at the slightest provocation of violence; rather, they are the vigilante heroines that every patriarchy needs." -- Booklist, starred review

"Valiant Ladies brings the remarkable lives of two forgotten women to vivid, riotous life. Delightfully ahistorical, terribly romantic (have you ever shipped sword lesbians harder??), and all steeped in vigilante justice hell-bent on taking down a violent patriarchy—there's only one word for it: badass." —Mackenzi Lee, author of the New York Times–bestselling The Gentleman's Guide to Vice and Virtue
About the Author
---
Melissa Grey was born and raised in New York City. She wrote her first short story at the age of twelve and hasn't stopped writing since. She is the author of The Girl at Midnight trilogy, Valiant Ladies, and Rated. When she's not penning novels, she's designing video game narratives. She currently lives and works in Iceland.
Praise For…
---
"Grey's actionpacked love story offers a fresher, more nuanced take on The Three Musketeers, with a fastpaced plot and well-developed characters... Kiki and Ana are not the traditional demure ladies that swoon at the slightest provocation of violence; rather, they are the vigilante heroines that every patriarchy needs." -- Booklist, starred review

"Inspired by real-life 17th-century heroines, Grey's historical murder mystery is an exhilarating adventure.... Kiki and Ana are passionate heroines whose alternating perspectives—which embody both fierceness for justice and tender affection for each other—paired with cinematic action sequences conjure a hyper-engaging and gratifying experience." -- Publishers Weekly, starred review

"This book is exciting, romantic, and incredibly difficult to put down. It ... provides insight into the Spanish colonization of South America and drives home that powerful women, people of color, and ­LGBTQIA+ people have existed throughout time." --School Library Journal, starred review

"Vibrant, fresh, and filled with swashbuckling mystery, Valiant Ladies instantly sucked me in. I rooted for Kiki and Ana, and I fell entirely into seventeenth century Peru. Melissa Grey's bright, propulsive prose brings the stories of these real historical figures so fully and colorfully to life." —Susan Dennard, author of the New York Times–bestselling Witchlands series

"Valiant Ladies brings the remarkable lives of two forgotten women to vivid, riotous life. Delightfully ahistorical, terribly romantic (have you ever shipped sword lesbians harder??), and all steeped in vigilante justice hell-bent on taking down a violent patriarchy—there's only one word for it: badass." —Mackenzi Lee, author of the New York Times–bestselling The Gentleman's Guide to Vice and Virtue

"Melissa Grey is at her best! Valiant Ladies is a fierce, fast-paced murder mystery. Vicious and romantic." —Ashley Poston, author of the nationally bestselling Geekerella

"Ana and Kiki are the sword lesbians of my dreams. This is the queer Latina historical fantasy you didn't know you wanted until you got it—and then you'll want more." —Sam Maggs, author of The Unstoppable Wasp: Built on Hope

"Kiki and Ana's journey, from start to finish, will take you on the ride of a lifetime. Grey's words easily transport you to Potosí, bringing to life a vibrant city that has it all. It makes me wish I could grab my own dagger, hide it under a ball gown, and join them along on this adventure." —Tamara Fuentes, associate entertainment editor, Cosmopolitan

"Valiant Ladies is a tour de force, a magnificent swashbuckling adventure in seventeenth-century Potosí. Brimming with action, intrigue, and, yes, a ballroom scene, Melissa Grey has crafted something truly special." —Rachel Strolle, writer for BuzzFeed