Master of Poisons (Hardcover)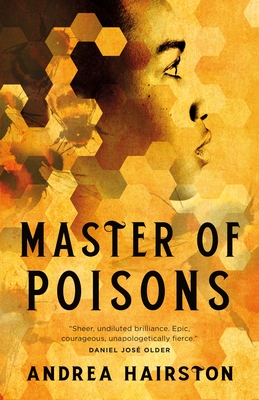 Description
---
"This is a prayer hymn, a battle cry, a love song, a legendary call and response bonfire talisman tale. This is medicine for a broken world." —Daniel José Older

Named a Best of 2020 Pick for Kirkus Review's Best Books of 2020

Award-winning author Andrea Hairston weaves together African folktales and postcolonial literature into unforgettable fantasy in Master of Poisons

The world is changing. Poison desert eats good farmland. Once-sweet water turns foul. The wind blows sand and sadness across the Empire. To get caught in a storm is death. To live and do nothing is death. There is magic in the world, but good conjure is hard to find.

Djola, righthand man and spymaster of the lord of the Arkhysian Empire, is desperately trying to save his adopted homeland, even in exile.

Awa, a young woman training to be a powerful griot, tests the limits of her knowledge and comes into her own in a world of sorcery, floating cities, kindly beasts, and uncertain men.

Awash in the rhythms of folklore and storytelling and rich with Hairston's characteristic lush prose, Master of Poisons is epic fantasy that will bleed your mind with its turns of phrase and leave you aching for the world it burns into being.
About the Author
---
Andrea Hairston is a novelist, essayist, playwright, and the Artistic Director of Chrysalis Theatre. She is the author of Redwood and Wildfire, winner of the 2011 Otherwise Award and the Carl Brandon Kindred Award, and Mindscape, shortlisted for the Phillip K Dick and Otherwise Awards, and winner of the Carl Brandon Parallax Award. In her spare time, she is the Louise Wolff Kahn 1931 Professor of Theatre and Afro-American Studies at Smith College. She has received the International Association of the Fantastic in the Arts Distinguished Scholarship Award for outstanding contributions to the criticism of the fantastic. She bikes at night year-round, meeting bears, and the occasional shooting star.
Praise For…
---
Named a Best of 2020 Pick for Kirkus Review's Best Books of 2020

Praise for Master of Poisons:

"Master of Poisons is sheer, undiluted brilliance. Epic, courageous, unapologetically fierce. The world needed an epic fantasy from the unstoppably creative mind of Andrea Hairston, and it's right on time. This is a prayer hymn, a battle cry, a love song, a legendary call and response bonfire talisman tale. This is medicine for a broken world." —Daniel José Older

"Master of Poisons makes me laugh, gasp, and dream of the world we are so desperately holding onto and of a better world yet to come . . . I am so grateful Andrea hasn't given up on us! May she keep gifting our world with her expansive imagination throughout the years!" —Sheree Renée Thomas

"Nobody does it better than Andrea Hairston, and if you doubt it, just open Master of Poisons and follow her into the light." —Pearl Cleage

"Andrea Hairston's writing is not to be missed. Her fantasy is rich with evocative detail, stunning and original, and her characters deeply humane and engaging. This is the kind of fantasy that expands your mind and warms your heart." —Martha Wells

"Hairston weaves a rich tapestry of folklore and adventure, inviting readers into a well-developed, non-Western fantasy world, while navigating pressing issues of climate change and personal responsibility. This is an urgent, gorgeous work." —Publishers Weekly starred review

Praise for Andrea Hairston:

"[A] beautifully multifaceted story...with deep, layered, powerful characters. Highly recommended."—The New York Times on Will Do Magic for Small Change

"The entire work is filled with magic, celebrating West Africans, Native Americans, art, and love that transcends simple binary genders. Hairston's novel is a completely original and stunning work."—Publishers Weekly on Will Do Magic for Small Change

"A heartbreaking, game-changing, life-affirming, truth-telling powerhouse."—Daniel José Older on Will Do Magic for Small Change

"An affirmation of the power of joy to transform the world, and reading it will make you sing like a bird while wishing for wings with which to fly."—Nisi Shawl on Will Do Magic for Small Change