One Last Stop (Paperback)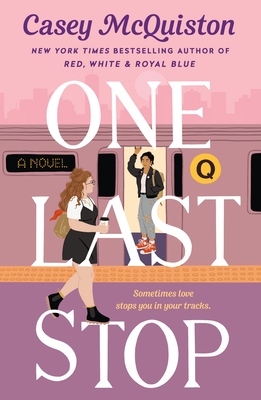 $16.99

In stock with our warehouse--usually ships within 1-7 days. May or may not be in stock at Room.
Staff Reviews
---
A super cute love story with mystery and intrigue and family drama, too! — From Syd's FICTION picks
A lot of queers and romance-enthusiasts are absolutely gushing over One Last Stop. This book is equal parts romance, wrinkle-in-time, mystery, and pancake hunger pangs. I walked into this one without any idea about the context of the story, except the fact that some soft femme was about to crush hard for a sharp-edged, leather-jacket wearing babe on the subway. Well! I was in for a run for my money. August is, I think, one of the most naïve characters that has ever been written. BUT, she's also incredibly smart, intuitive, and has great suspicion in the best way. New York is really written in a way that isn't New York at all--and I have never lived there. Only visited. But some parts felt right. The subway timelocked Jane definitely didn't feel right. But here I am! Just rooting for both of these people who are absolutely in this unbelievable story. But that was the best part: It didn't have to be believable to enjoy it. It was a great, sweet, sticky little reprieve from the harsh reality of the world outside. Casey McQuiston wrote an array of wonderful characters and they really did right by the comradery of found-family. I also appreciated the complex mother-child relationship that August had with her mom. Her mom felt like a full formed human, which most parent characters don't in some novels. They often just feel like a pawn in the story. Anyway. I probably won't think about this book on my deathbed, but definitely the sweet baked good I needed in the midst of another heavy year. Absolutely the perfect read for someone who needs a good laugh, cry, and a smile. — From Alej's Picks - ☼ Fiction ☼
June 2021 Indie Next List
---
"What a magical and creative tale, an addictive read that I did not want to put down. A fun and diverse cast of characters took this story to the next level. With such wide appeal, I know I will be able to put One Last Stop into the hands of almost any customer this summer."
— Cori Cusker, Bright Side Bookshop, Flagstaff, AZ
Description
---
*INSTANT NEW YORK TIMES BESTSELLER*
*INSTANT USA TODAY BESTSELLER*
*INSTANT #1 INDIE BESTSELLER*

From the New York Times bestselling author of Red, White & Royal Blue comes a new romantic comedy that will stop readers in their tracks...

For cynical twenty-three-year-old August, moving to New York City is supposed to prove her right: that things like magic and cinematic love stories don't exist, and the only smart way to go through life is alone. She can't imagine how waiting tables at a 24-hour pancake diner and moving in with too many weird roommates could possibly change that. And there's certainly no chance of her subway commute being anything more than a daily trudge through boredom and electrical failures.

But then, there's this gorgeous girl on the train.

Jane. Dazzling, charming, mysterious, impossible Jane. Jane with her rough edges and swoopy hair and soft smile, showing up in a leather jacket to save August's day when she needed it most. August's subway crush becomes the best part of her day, but pretty soon, she discovers there's one big problem: Jane doesn't just look like an old school punk rocker. She's literally displaced in time from the 1970s, and August is going to have to use everything she tried to leave in her own past to help her. Maybe it's time to start believing in some things, after all.

Casey McQuiston's One Last Stop is a magical, sexy, big-hearted romance where the impossible becomes possible as August does everything in her power to save the girl lost in time.

"A dazzling romance, filled with plenty of humor and heart." - Time Magazine, "The 21 Most Anticipated Books of 2021"

"Dreamy, other worldly, smart, swoony, thoughtful, hilarious - all in all, exactly what you'd expect from Casey McQuiston!" - Jasmine Guillory, New York Times bestselling author of The Proposal and Party for Two
About the Author
---
CASEY MCQUISTON is the New York Times bestselling author of One Last Stop, Red, White & Royal Blue, and I Kissed Shara Wheeler, as well as a pie enthusiast. Born and raised in southern Louisiana, Casey now lives in New York City with Pepper, a poodle mix and semipro personal assistant.
Praise For…
---
*NEW YORK TIMES BESTSELLER*
*USA TODAY BESTSELLER*
*#1 INDIE BESTSELLER*
*A NEW YORK TIMES BOOK REVIEW NOTABLE BOOK OF 2021*
*THE TONIGHT SHOW'S FALLON SUMMER READS BOOK CLUB FINALIST*
*ONE OF NPR'S BEST BOOKS OF THE YEAR*
*ONE OF TIME'S MUST-READ BOOKS OF 2021*
*ONE OF USA TODAY'S BEST ROM-COMS of 2021*
*INDIGO TOP 10 BEST BOOKS OF THE YEAR*
*PUBLISHERS WEEKLY BEST BOOKS OF 2021*

"Part romance, part fantasy, this gorgeous novel is about meeting someone on your daily commute — a girl, it turns out, who has been riding the train since the 1970s, thanks to a magical timeslip. But it's also about loneliness, and being unmoored from normal time, and missing people you've lost, and dealing with generational trauma and fearing an unknowable future." - The New York Times Book Review

"One Last Stop is an earnest reminder that home - whether that means a time, a place, or a person - is worth fighting for." - New York Magazine

"The story of August and Jane's chance meeting is swoony, thoughtful, and one of those big-hearted romances you'll gush about long after finishing." - Hello Sunshine

"This delightful love story is everything you need for a feel-good day of beach reading." - Elle

"Casey McQuiston has done it again." - Hypable

"One Last Stop is an electrifying romance that synapses into the dreamy "Hot Person Summer" kind of story you wish you were a part of. McQuiston is leading the charge for inclusive happy-ever-afters, radiant with joy and toe-curling passion, and bursting with the creative range to make anything from electricity to social activism sound sexy." - NPR

"A dazzling romance, filled with plenty of humor and heart." - Time

"To say that Casey McQuiston's latest novel is so electrifyingly fun and swoon-worthy that you'll miss your subway stop while reading it is probably a little on the nose, but whatever...One Last Stop is a heart-thawing ode to the impossible magic of New York, and will even leave you feeling somehow wistful for the MTA (yes, really)." - Oprahmag.com

"The most buzz-worthy book this season." - The Young Folks

"Sure to be one of the biggest hits of the summer and beyond." - Book Reporter

"This one's sexy, swoon-worthy, and just made for summer reading." - Good Housekeeping

"One Last Stop is the time-slip sapphic rom-com in book form that mixes real-life queer history with 2020 escapism you'll want to hold onto forever." - Pop Sugar

"A funny, modern, and entertaining novel, One Last Stop will have you rooting for love that makes people feel free to be their truest selves." - Shondaland

"Come for sweet romance, stay for the bridge scene and the breakfast sandwich recipe." - Real Simple

"This time-bending queer romance is as big-hearted as it gets." - Parade

"Queers, complicated family relationships, romance, time travel, and Brooklyn... what's not to like? From the author of the frothy and yet incredibly compelling Red, White & Royal Blue comes an equally improbable and equally delightful summer romance story that somehow feels timeless." - VICE

"Casey McQuiston doesn't miss: Those who read and loved Red, White & Royal Blue will also fall for One Last Stop, another rom-com told from the perspective of an enchanting protagonist who has no idea what awaits them. One Last Stop is the perfect summer romance." - Bitch Media

"Overwhelmingly, it's the slow burn discoveries and the risks we see the characters become brave enough to take that make One Last Stop such a moving and transportative read...It's a very particular feeling to be in a room where joy and community and good humor are all palpable. How remarkable then, that One Last Stop takes you to so many such spaces – apartments, drag bars, diners, and so many subway cars, tunnels and bridges – and lets the reader bask in the love that lives, is remembered, and is cultivated there." - Austin Chronicle

"McQuiston makes the confusion and uncertainty of new adulthood exciting and often funny, while also paying respect to the queer activists who came before and the resilience of the queer community. One Last Stop is an exuberant but thoughtful romance sure to delight McQuiston's fans, and anyone who enjoys a good love story." - Shelf Awareness (starred review)

"Bursting with heart, snappy banter and a deep respect for queer history and community, One Last Stop isn't just another surefire hit for McQuiston. It also might be the best read of the summer." - BookPage (starred review)

"[A] love story on all levels, one that marvels at the magic of human connection and is unabashedly romantic." - Booklist (starred review)

"Both a satisfying romance and a heartwarming, realistic coming-of-age tale, McQuiston's latest book features finely drawn, fully realized characters, a healthy dose of speculative mystery, and a soupc¸on of true crime. It will appeal to a wide range of readers and is essential for public library collections." - Library Journal (starred review)

"McQuiston's joyful sophomore romp mixes all the elements that made Red, White & Royal Blue so outstanding—quirky characters, coming-of-age confusion, laugh-out-loud narration, and hilarious pop-cultural references—into something totally its own...With all the fun and camp of a drag show (of which this novel features more than one) but grounded in the tenderness of first love, this time-slip rom-com is an absolute delight." - Publishers Weekly (starred review)

"[A] a moving look at the strength of true love even when faced with seemingly insurmountable obstacles." - Kirkus

"Red, White & Royal Blue was all I could talk about for three blissful months and now I'm downright giddy to start the process all over again with One Last Stop, McQuiston's second novel. It's just as queer, just as romantic, and just as thrilling of a read. I mean, lesbians and time travel. What's not to love?" - Advocate

"McQuiston's witty writing, hilarious and familiar side characters, and gorgeous slow-burn romance is just *chef's kiss*. And this city is magical, so it works perfectly." - Tor.com

"Readers who loved Red, White & Royal Blue won't want to miss Casey McQuiston's next book: a queer Kate & Leopold retelling about a 23-year-old who discovers that the subway cutie she's been crushing on is from another time." - Bookish

"McQuiston's laugh-out-loud sophomore outing features a vibrant New York City backdrop, an endearing queer cast who form a heartwarming found family, and a time-traveling lesbian love interest. The genre mash-up works remarkably well; the hint of magic only enhances the romantic tension. Add in plenty of wit, heartache, and some truly steamy scenes, and the result is rom-com gold." - Publishers Weekly, "Best Books of 2021"

"Bursting with heart, banter and a respect for queer history and community, One Last Stop proves that Casey McQuiston has no intention of resting on her laurels after the unprecedented success of Red, White & Royal Blue." - BookPage, "Best Romances of 2021"

"One Last Stop made me fall in love with Casey McQuiston's writing all over again." - NPR, "Books We Love"

"...One Last Stop is just plain fun, and infused with plenty of care, especially when it comes to portraying the queer community that envelops August with love. It's a book that is guaranteed to make you smile—with a steamy love story to boot." - Time, "The 100 Must-Read Books of 2021"

"A magnificent love song shouted to queer lineage, found family, Brooklyn and one's early
20s." - The New York Times, "The Best Science Fiction and Fantasy Books of 2021"

"Casey McQuiston writes the stories I grew up dying to read—the ones I'm still dying to read. One Last Stop is passionate, funny, romantic & exactly as queer as I am: VERY. You'll read this in a single sitting and miss August & Jane when it's over. Don't miss this book!" - Cameron Esposito, bestselling author of Save Yourself

"One Last Stop is a simply stunning book. It's tender and honest at every turn. Reading this book healed something in me that I didn't know was hurting, and fed something in me that I didn't know was hungry. It's perfect, perfect, perfect." - Sarah Gailey, Hugo award-winning author of Upright Women Wanted

"Dreamy, other worldly, smart, swoony, thoughtful, hilarious - all in all, exactly what you'd expect from Casey McQuiston!" - Jasmine Guillory, New York Times bestselling author of The Wedding Date and Party for Two

"A breathtaking love story, filled with heart, yearning, coming of age, and the most wonderful found family. Honest, often humorous, always relevant, McQuiston's writing reads like poetry. One Last Stop is meant to be savored slowly." - Helen Hoang, USA Today bestselling author of The Kiss Quotient and The Heart Principle

"McQuiston's One Last Stop is an exquisite sophomore novel exploring love and its power to reach across time and space. This romance proves that an instant electric connection can develop into the most beautiful happily-ever-afters." - Roselle Lim, author of Vanessa Yu's Magical Paris Tea Shop

"If magic and delight had a baby, it would be this book." - Julia Whelan, author of My Oxford Year

"Casey McQuiston once again creates a world you don't want to leave, filled with a vibrant cast of queer characters and a couple you root for from the beginning. Casey's writing is so good it seems only natural to be jealous, but I can't bring myself to be anything but glad readers get to enjoy their work." - Meryl Wilsner, author of Something to Talk About