salt slow (Paperback)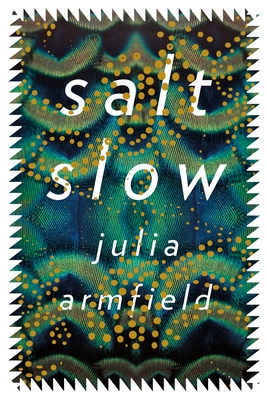 $16.99

In stock with our warehouse--usually ships within 1-7 days. May or may not be in stock at Room.
Description
---
Shortlisted for the Sunday Times Young Writer of the Year Award

From White Review Short Story Prize winner Julia Armfield, a brilliant, provocative debut story collection for fans of Carmen Maria Machado and Kelly Link.

In her electrifying debut, Julia Armfield explores women's experiences in contemporary society, mapped through their bodies. As urban dwellers' sleeps become disassociated from them, like Peter Pan's shadow, a city turns insomniac. A teenager entering puberty finds her body transforming in ways very different than her classmates'. As a popular band gathers momentum, the fangirls following their tour turn into something monstrous. After their parents remarry, two step-sisters, one a girl and one a wolf, develop a dangerously close bond. And in an apocalyptic landscape, a pregnant woman begins to realize that the creature in her belly is not what she expected.

Blending elements of horror, science fiction, mythology, and feminism, salt slow is an utterly original collection of short stories that are sure to dazzle and shock, heralding the arrival of a daring new voice.
About the Author
---
Julia Armfield is the author of the story collection salt slow and the novel Our Wives Under the Sea. Her work has been published in Granta, Lighthouse, Analog Magazine, Neon Magazine, and Best British Short Stories. She is the winner of the White Review Short Story Prize and a Pushcart Prize, and she was shortlisted for the Sunday Times Young Writer of the Year Award in 2019. She lives and works in London.
Praise For…
---
Praise for salt slow

Shortlisted for the Sunday Times Young Writer of the Year Award

A Best Book of the Year (The Guardian, Vanity Fair)

A Most Anticipated Book (Esquire, Time, Buzzfeed, Refinery29)

"Both delightful and discomfiting."
—The New Yorker

"A darkly exciting debut…Wickedly clever prose and a sense of humor that seems to loom up like a character itself, having been lying in wait in a corner all along."
—The Guardian

"Electric…Simultaneously attractive and repulsive, the stories make for a chilling but hugely satisfying reading experience."
—Vanity Fair

"Surreal, muscular stories…Fusing genres with supernatural grace, Armfield takes the discourse about inhabiting a female body to spooky, surprising places."
—Esquire

"Examines women and the complicated relationships they have with their bodies…Armfield asks unsettling but nuanced questions about power, obsession, and loneliness."
—Time

"Immediately calls to mind the slippery short stories of Carmen Maria Machado and Angela Carter in its gothic treatment of common girlish concerns, from puberty—a girl's skin literally molts right before she's kissed—to boyfriends who turn to stone. It's the kind of quiet, meticulously crafted collection that's a sign of even greater writing to come."
—BuzzFeed

"An absolute joy. The writing is ridiculously, dizzyingly brilliant…Uncanny, unsettling, filled with monsters, and consistently quietly devastating. I can't wait to read more."
—Lara Williams, Electric Literature

"Wild and wonderful, packed with mythical transformations that take place in the most ordinary of contemporary settings…Marvelous."
—Daily Mail

"Read just one tale from this disturbing collection and you'll find yourself clamped between the collection's jaws. Because, visceral, perturbing and exhilarating, these stories are something really special."
—Stylist

"Exceptional...Hugely enjoyable...Absolutely beautifully written...So subtle, intelligent and imaginative."
—The Scotsman

"Thrilling...A writer whose next move you wouldn't want to miss."
—Observer

"Eerie, otherworldly…For fans of Carmen Maria Machado."
—Elle (UK)

"An enchanting, bizarre, and inventive portal to slightly uncanny realities…salt slow is for fans of Carmen Maria Machado and Samantha Hunt."
—Refinery29

"Unsettling, uncanny, and utterly delightful… Armfield occasionally deploys startling, stunning turns of phrase…Razor-sharp, stylish, and imaginative, Armfield's collection is a dazzling introduction to a talented writer."
—Publishers Weekly (starred review)

"Dazzling…Each piece is filled with magic, insight, and a rare level of creativity that mark Armfield as a fresh new voice of magical realism. Artistic and perceptive, Armfield's debut explores the ebbs and flows of human connection in lives touched by the bizarre."
—Kirkus

"Provocative and thrilling…Armfield's collection is exemplary as she pushes the limits of reality into beautifully eerie and unsettling worlds. She blends elements of horror, science fiction, mythology, and feminism in a way that is sure to shock and amaze readers of short fiction."
—Booklist

"Reading this collection is the only thing you need to do right now. Armfield is an enormous, gut-wrenching talent."
—Daisy Johnson, Booker Prize-shortlisted author of Everything Under

"salt slow is exemplary. A distinct new gothic, melancholy, powerful, and poised."
—China Miéville, author of The City & The City

"These are brilliantly addictive, barbed, illusive stories. Armfield creates a cleverly unsettling, iridescent world that we are all the better for entering."
—Irenosen Okojie, author of Speak Gigantular

"Visceral, fierce and beautifully unsettling, Armfield's writing has an astonishing power. This collection haunted me with its brilliance."
—Elizabeth Macneal, author of The Doll Factory

"Armfield's work has a timelessness to it, and a generosity of emotion that's brave and affecting."
—Chloe Aridjis, author of Book of Clouds

"Unafraid to venture beyond realism's limits…Armfield is a significant, exciting talent."
—Sam Byers, author of Perfidious Albion