Everfair: A Novel (Paperback)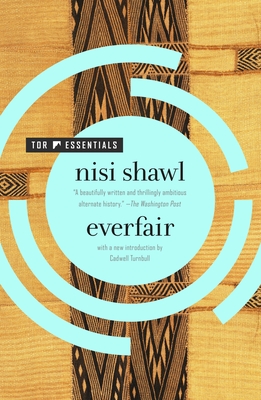 Description
---
An award-winning alternate history / historical fantasy / steampunk novel set in the Belgian Congo, from acclaimed short story writer Nisi Shawl.

Now with a beautiful new cover and a foreward from award-winning author Cadwell Turnbull.

What happens when maimed Congolese farmers escape from their enslavement in deadly rubber groves? When 19th century socialists create their own Utopia? When a Chinese railway builder swaps hard labor for inventive brilliance? When a fighting Christian minister discovers that really old-time religion?

In Shawl's exciting steampunk adventure, brave Black missionaries team up with dream-eyed socialists and ambitious locals to found Everfair, a land of spying swarms of cats and gulls, of nuclear dirigibles buoyed by barkcloth balloons, of sleek and silent pistols shooting poison knives. But after Everfair's enemy, the Belgian tyrant Leopold II, is defeated, heroes from four continents must find a way to live together in harmony—if World War I will let them.
About the Author
---
Nisi Shawl (they/them) is a writer of science fiction and fantasy short stories and a journalist. They are the co-author (with Cynthia Ward) of Writing the Other: Bridging Cultural Differences for Successful Fiction. Their short stories have appeared in Asimov's, Strange Horizons, and numerous other magazines and anthologies.
Praise For…
---
"A beautifully written and thrillingly ambitious alternate history . . . It's a tribute to Shawl's powerful writing that her intricate, politically and racially charged imaginary world seems as believable—sometimes more believable—than the one we inhabit."—The Washington Post

"Nisi Shawl's Everfair is a book with gorgeous sweep, spanning years and continents, loves and hates, histories and fantasies. Set against the big canvas of King Leopold's horrific rule in the Congo, her engaging, passionate characters struggle to make the right choices in a world that is almost ours, but not quite. Everfair is sometimes sad, often luminous, and always original. A wonderful achievement."—Karen Joy Fowler

"From the exotic, baroque complexities of 'At the Huts of Ajala' to the stark, folktale purity of 'The Beads of Ku,' these fourteen superbly written stories will weave around you a ring of dark, dark magic."—Ursula K. Le Guin on Filter House