Black Helicopters (Tinfoil Dossier #2) (Paperback)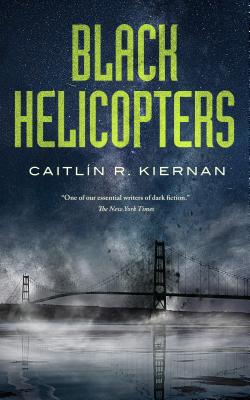 Other Books in Series
This is book number 2 in the Tinfoil Dossier series.
Description
---
A dark jewel of a novella, this definitive edition of Caitlín R. Kiernan's Black Helicopters is the expanded and completed version of the World Fantasy Award-nominated original.

Just as the Signalman stood and faced the void in Agents of Dreamland, so it falls to Ptolema, a chess piece in her agency's world-spanning game, to unravel what has become tangled and unknowable.

Something strange is happening on the shores of New England. Something stranger still is happening to the world itself, chaos unleashed, rational explanation slipped loose from the moorings of the known. Two rival agencies stare across the Void at one another. Two sisters, the deadly, sickened products of experiments going back decades, desperately evade their hunters.

An invisible war rages at the fringes of our world, with unimaginable consequences and Lovecraftian horrors that ripple centuries into the future.
About the Author
---
CAITLÍN R. KIERNAN is the author of over a dozen science fiction and dark fantasy works, including Agents of Dreamland, many comic books; and more than two hundred published short stories, novellas, and vignettes. They are also the author of scientific papers in the field of paleontology.

Award wins:

The International Horror Guild Award (4 times)
The Barnes & Noble Maiden Voyage Award
The James Tiptree Jr Award
The Bram Stoker Award (twice)
The Locus Award
World Fantasy Award (twice – both in 2014)
Praise For…
---
"Kiernan's writing — starkly visual, tongue in cheek and disturbingly visceral — carries the day." —The New York Times

"Kiernan's subtly haunting voice draws the reader in." —Publishers Weekly

"Caitlín R Kiernan is one of those writers that you can't believe isn't a household name. Her writing is fantastic and her stories are dark, complex and wonderful." — Book Riot

"Caitlín Kiernan is one of the great stylists of horror fiction, and this novella is a triumph. It bristles with energy and ideas — ideas that seem to spill off the page — and everything is underpinned by a sense of cosmic bleakness that took my breath away. I fell in love with the characters. The story pulled me along by the nose. I honestly didn't want it to end." —Gary McMahon, author of the Concrete Grove trilogy