The Ascent to Godhood (The Tensorate Series #4) (Paperback)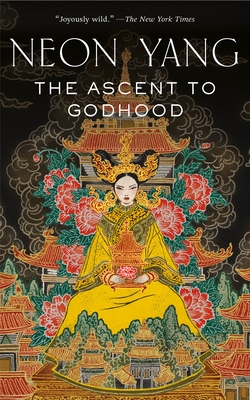 $12.99
Usually Ships in 1-5 Days
Other Books in Series
This is book number 4 in the The Tensorate Series series.
Description
---
Prepare yourself for The Ascent to Godhood, the fourth book in JY Yang's silkpunk Tensorate series, a wide-ranging, imaginative, engaging playground that the New York Times lauded as "joyously wild."

The Protector is dead.
For fifty years, the Protector ruled, reshaping her country in her image and driving her enemies to the corners of the map. For half a century the world turned around her as she built her armies, trained her Tensors, and grasped at the reins of fate itself. Now she is dead. Her followers will quiver, her enemies rejoice.
But in one tavern, deep in rebel territory, her greatest enemy drowns her sorrows. Lady Han raised a movement that sought the Protector's head, yet now she can only mourn her loss. She remembers how it all began, when the Protector was young, not yet crowned, and a desperate dancing girl dared to fall in love with her.
About the Author
---
JY YANG is the author of the Tensorate Series, which began with The Black Tides of Heaven and The Red Threads of Fortune. A finalist for the Hugo, Nebula and World Fantasy Awards, they are also a lapsed journalist, a former practicing scientist, and a master of hermitry. They are a queer, non-binary, postcolonial intersectional feminist, and have over two dozen pieces of short fiction published. They live in Singapore and have a MA in creative writing from the University of East Anglia.
Praise For…
---
PRAISE FOR THE TENSORATE SERIES
"Joyously wild stuff. Highly recommended." —The New York Times

"Yang conjures up a world of magic and machines, wild monsters and sophisticated civilizations, that you'll want to return to again and again." —Annalee Newitz for Ars Technica
"Full of love and loss, confrontation and discovery. Each moment is a glistening pearl, all strung together in a wonder of world-creation." — Ken Liu, Nebula, Hugo, and World Fantasy Award winner and author of The Grace of Kings and The Paper Menagerie
"A rebel commander in a complicated fantasy world recalls her triumphs and struggles in Yang's superb fourth Tensorate novella. This thrilling adventure stands alone, as well as providing moving, complicated backstory for the earlier books in the series. Both fans and newcomers will be enthralled." —Publishers Weekly on The Ascent to Godhood
"The vicious and deadly court intrigues of this volume provide a deeper exploration of the interior life of the Protectorate court." —Booklist on The Ascent to Godhood
"Yang is a writer with a deft, evocative prose style, an epic approach to worldbuilding even in short forms, and frequently the ability to portray complex and compelling characters. There's space for more stories in the Tensorate universe, a lot more, and I hope to read lots of them." —Locus on The Ascent to Godhood
"Yang's masterful world building is on display, from the manipulation of the metaphysical "slack" to the creatures who inhabit the harsh mountains, made even more impressive by the nonlinear narrative structure. The Old World feel of their "silkpunk" fantasy is made modern by smoothly interwoven gender-nonbinary characters, whose richness enhances the emotional impact of this short but compelling work." —Booklist on The Descent of Monsters
"I love JY Yang's effortlessly fascinating world-building." —Kate Elliott, author of Black Wolves and Court of Fives

"A fascinating world of battles, politics, magic and romance." —Zen Cho, author of Sorcerer to the Crown
"Filled with memorable characters and set in a wonderfully imaginative and original universe." —Aliette de Bodard, Nebula Award-winning author of The House of Shattered Wings

"Like a Miyazaki movie decided to jump off the screen and sear itself into prose, and in doing so became something entirely new." —Indrapramit Das, author of The Devourers

"Relentlessly captivating, heartbreaking, and powerful." —Fran Wilde, award-winning, Nebula & Hugo-nominated author of Updraft, Cloudbound, and Horizon

"Yang's prose carries the reader along... A really good book." —Locus on The Black Tides of Heaven
"Yang's writing is quiet, but it is the quiet of strength. It doesn't need to shout to be heard." —Michelle West for The Magazine of Fantasy and Science Fiction
"Yang captures an epic sweep in compact, precise prose." —Publishers Weekly starred review on The Black Tides of Heaven