The Descent of Monsters (The Tensorate Series #3) (Paperback)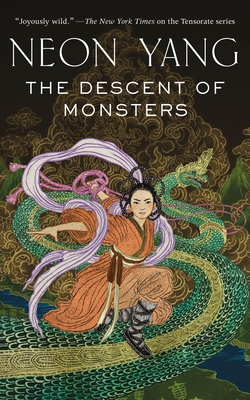 $14.99
Usually Ships in 1-5 Days
Other Books in Series
This is book number 3 in the The Tensorate Series series.
Description
---
A finalist for the 2019 Lammy Award for best LGBTQ SF/F/Horror and the Locus Award for Best Novella

JY Yang continues to redefine the limits of silkpunk fantasy with their Tensorate novellas, which the New York Times lauded as "joyously wild." In this third volume, an investigation into atrocities committed at a classified research facility threaten to expose secrets that the Protectorate will do anything to keep hidden
You are reading this because I am dead.
Something terrible happened at the Rewar Teng Institute of Experimental Methods. When the Tensorate's investigators arrived, they found a sea of blood and bones as far as the eye could see. One of the institute's experiments got loose, and its rage left no survivors. The investigators returned to the capital with few clues and two prisoners: the terrorist leader Sanao Akeha and a companion known only as Rider.
Investigator Chuwan faces a puzzle. What really happened at the institute? What drew the Machinists there? What are her superiors trying to cover up? And why does she feel as if her strange dreams are forcing her down a narrowing path she cannot escape?
The Tensorate Series
Book 1: The Black Tides of Heaven
Book 2: The Red Threads of Fortune
Book 3: The Descent of Monsters
Book 4: The Ascent to Godhood
About the Author
---
JY YANG is the author of the Tensorate Series, which began with The Black Tides of Heaven and The Red Threads of Fortune. A finalist for the Hugo, Nebula and World Fantasy Awards, they are also a lapsed journalist, a former practicing scientist, and a master of hermitry. They are a queer, non-binary, postcolonial intersectional feminist, and have over two dozen pieces of short fiction published. They live in Singapore and have a MA in creative writing from the University of East Anglia.
Praise For…
---
PRAISE FOR THE TENSORATE SERIES
"Joyously wild stuff. Highly recommended." —The New York Times

"Yang's masterful world building is on display, from the manipulation of the metaphysical "slack" to the creatures who inhabit the harsh mountains, made even more impressive by the nonlinear narrative structure. The Old World feel of their "silkpunk" fantasy is made modern by smoothly interwoven gender-nonbinary characters, whose richness enhances the emotional impact of this short but compelling work." —Booklist on The Descent of Monsters
"Yang conjures up a world of magic and machines, wild monsters and sophisticated civilizations, that you'll want to return to again and again." —Annalee Newitz for Ars Technica
"Full of love and loss, confrontation and discovery. Each moment is a glistening pearl, all strung together in a wonder of world-creation." — Ken Liu, Nebula, Hugo, and World Fantasy Award winner and author of The Grace of Kings and The Paper Menagerie
"I love JY Yang's effortlessly fascinating world-building." —Kate Elliott, author of Black Wolves and Court of Fives

"A fascinating world of battles, politics, magic and romance." —Zen Cho, author of Sorcerer to the Crown
"Filled with memorable characters and set in a wonderfully imaginative and original universe." —Aliette de Bodard, Nebula Award-winning author of The House of Shattered Wings

"Like a Miyazaki movie decided to jump off the screen and sear itself into prose, and in doing so became something entirely new." —Indrapramit Das, author of The Devourers

"Relentlessly captivating, heartbreaking, and powerful." —Fran Wilde, award-winning, Nebula & Hugo-nominated author of Updraft, Cloudbound, and Horizon

"Yang's prose carries the reader along... A really good book." —Locus on The Black Tides of Heaven
"Yang deftly creates a world infused with magic, story, and hierarchy." —Joel Cunningham, B&N Sci-Fi and Fantasy Blog
"Yang's writing is quiet, but it is the quiet of strength. It doesn't need to shout to be heard." —Michelle West for The Magazine of Fantasy and Science Fiction
"Yang captures an epic sweep in compact, precise prose." —Publishers Weekly starred review on The Black Tides of Heaven