In Real Life (Paperback)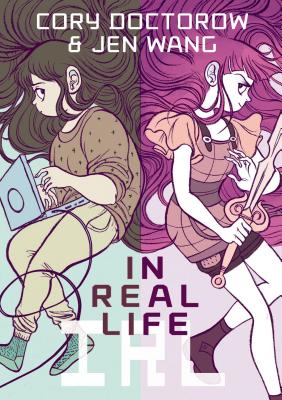 $12.99

In stock with our warehouse--usually ships within 1-7 days. May or may not be in stock at Room.
Description
---
From acclaimed teen author Cory Doctorow and rising star cartoonist Jen Wang comes a New York Times-bestselling graphic novel that takes a sensitive, thoughtful look at adolescence, gaming, poverty, and culture-clash.

"A lovely graphic novel for gamer girls of all ages." —Felicia Day

Anda loves Coarsegold Online, the massively-multiplayer role playing game that she spends most of her free time on. It's a place where she can be a leader, a fighter, a hero. It's a place where she can meet people from all over the world, and make friends. Gaming is, for Anda, entirely a good thing.

But things become a lot more complicated when Anda befriends a gold farmer—a poor Chinese kid whose avatar in the game illegally collects valuable objects and then sells them to players from developed countries with money to burn. This behavior is strictly against the rules in Coarsegold, but Anda soon comes to realize that questions of right and wrong are a lot less straightforward when a real person's real livelihood is at stake.

In Real Life is a touching and morally complex tale for young adults.

This title has common Core connections.

Praise for In Real Life:

"Ultimately, Doctorow and Wang want us to consider what it means to be part of groups that hate other groups, and how technology and persistence can help us overcome such barriers. . . . In Real Life is a powerful narrative." —The New York Times Book Review

"In Real Life is an exciting and heartfelt exploration of video-gaming and global economics that features a capable and caring protagonist. Both Anda and her online avatar are depicted as smart, competent, and ultimately kind. Jen Wang's dynamic layouts clearly convey the story and give momentum to the action scenes. Doctorow's plot emphasizes that collective action can lead to better working conditions and that the Internet can be a powerful tool for good." —Common Sense Media

"Smart and funny." —Slate

"Online gaming and real life collide when a teen discovers the hidden economies and injustices that hide among seemingly innocent pixels . . . Through Wong's captivating illustrations and Doctorow's heady prose, readers are left with a story that's both wholly satisfying as a work of fiction and series food for thought about the real-life ramifications of playing in an intangible world. Thought-provoking, as always from Doctorow." —Kirkus Reviews

"The combination of girls-only gaming; gorgeous, stylized artwork; and a meaningful, sophisticated message about online gaming makes this a surefire hit for readers everywhere, especially girls." —Booklist, starred review

"Stunning artwork . . . An educational introduction offers further insight into gaming and the economies and political implications behind them." —The Bulletin

"The illustrations of the game are vibrant and dynamic . . . The subject matter will have a built-in audience, and the appealing artwork will move this off the shelves." —School Library Journal

"Characters come to life through Wang's (Koko Be Good) fluid forms and emotive faces, and her adroit shift in colors as the story moves between the physical and gaming worlds is subtle and effective." —Publishers Weekly
About the Author
---
Cory Doctorow is a regular contributor to the Guardian, Locus, and many other publications. He is a special consultant to the Electronic Frontier Foundation, an MIT Media Lab Research Associate and a visiting professor of Computer Science at the Open University. His award-winning novel Little Brother and its sequel Homeland were a New York Times bestsellers. His novella collection Radicalized was a CBC Best Fiction of 2019 selection. Born and raised in Canada, he lives in Los Angeles.

Jen Wang is a cartoonist, author and illustrator living in Los Angeles. She is the author of The Prince and the Dressmaker, Koko Be Good, and co-author of the New York Times Bestselling graphic novel In Real Life with Cory Doctorow. Her work has also appeared in Los Angeles Magazine, The Believer, Hazlitt, Slate, and McSweeney's. She has also written for the Adventure Time and Lumberjanes comic series. She is the co-founder and organizer of the annual festival Comics Arts Los Angeles.