The Land of Decoration: A Novel (Paperback)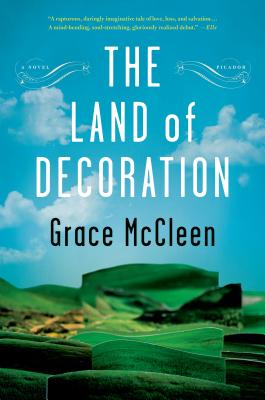 $23.00
Usually Ships in 2-7 Days
All sales of this book are final--it is print on demand and may take up to 2 weeks to arrive.
Staff Reviews
---
Sandi's Rec: The extraordinary tale of 10 year old Judith and her father (told in her voice), Judith is certain she is an instrument of God after it snows on the day she was to be confronted by the school's bully. A moving story of a child trying to reconcile her beliefs with an often-harsh real world.
— From
Sandi's Picks
Description
---
A New York Times Book Review Editors' Choice
Winner of the Desmond Elliott Prize

Judith and her father don't have much—their house is full of dusty relics, reminders of the mother she's never known. But Judith sees the world with the clear Eyes of Faith, and where others might see rubbish, Judith sees possibility. Bullied at school, she finds solace in making a model of the Promised Land—little people made from pipe cleaners, a sliver of moon, luminous stars, and a mirror sea—a world of wonder that Judith calls the Land of Decoration. Perhaps, she thinks, if she makes it snow indoors (using shaving cream and cotton balls and Scotch tape) there will be no school on Monday. Sure enough, when Judith opens her curtains the next day, the world beyond her window has turned white. She has performed her first miracle. And that's when her troubles begin.

With its intensely taut storytelling and gorgeous prose, The Land of Decoration is a breathtaking story of good and evil, belief and doubt. Grace McCleen is a blazing new talent in contemporary literature.
About the Author
---
Grace McCleen studied English Literature at Oxford University and The University of York before becoming a full-time writer and musician. She lives in London. The Land of Decoration is her first novel.
Praise For…
---
"Gripping…philosophically sophisticated…McCleen never tips her hat. The writing is born of a genuine inquiry into the nature of religious belief, especially as it relates to one's psychological development…The Land of Decoration puts a child at the crux of this interpretive dillema, and our hearts go out to her." —The New York Times Book Review

"[A] mind-bending, soul-stretching, gloriously realized debut…While end-of-time stories are faddish, UK writer Grace McCleen's novel, The Land of Decoration, is one to heed. The first sentence sets the tone for this rapturous, daringly imaginative tale of love, loss, and salvation…" —Elle magazine

"McCleen skillfully keeps us in a state of suspense; we root for Judith even while we are aghast at her conclusions and actions… [A]s the advice and instruction Judith receives become increasingly dangerous, the book becomes something even the Bible can't always be: a page turner." —Minneapolis Star Tribune

"This extraordinary tale of one little girl's End Times grabbed me by the throat. The Land of Decoration is part social observation and part crazy mysticism, held together by a brutally real story of parent-child love." —Emma Donoghue, author of Room

"Loveable, unique and thrillingly uncategorisable… A story about a small person's small antithesis of a small town full of small-minded people, this is a big-hearted novel." —Chris Cleave, Financial Times

"Gripping, beautiful… [M]akes you gasp with delight…In many ways it's suspense--is Judith going to get hurt?--that keeps you tearing through the pages (be prepared for the complete and total devastation of your social life; once you pick up this novel, you will not be able to do anything until you finish)... This isn't a child like the other children in books--say, the unbelievably smart ones who can lecture on astronomy and rare stamps. This is a regular old child, a loving, confused, tender-hearted little person who is trying, like all of us, to make some sense of out of this life." —Oprah.com pick for "Book of the Week"

"The novel's best moments offer a profound sense of the existential crisis that any believer eventually faces… McCleen also has a good ear for the blessings of comedy -- the little moments of absurdity that children experience as they try to make sense of religion." —Ron Charles, The Washington Post

"Grace McCleen's writing is deep, fantastical and powerful, and she really lets us into the heart of this tender, gentle little girl…A wonderful gen of a debut novel." —The Independent (UK)

"A tremendously affecting novel, skillfully and arrestingly written, and one that packs a big emotional punch." —The Sunday Times (UK)

"British musician McCleen's debut explores the complexities of love between a widowed father and his daughter…McCleen adroitly combines cinematic momentum with intuitive description in this novel about the consequences of faith and what happens when we believe that we have the power to effectuate change." —Publishers Weekly (starred review)

"So memorable…Surprising, affecting, thoughtful and complex, McCleen's novel grows in power the more time you spend with it." —The Guardian (UK)

"Extraordinary…like Emma Donoghue (whose "Room" was shortlisted for last year's Booker Prize) McCleen has created a voice which rings true and resonates deep. Bursting with tension and tenderness, this novel is a small miracle in itself." —Daily Mail (UK)

"[A] stunning debut.…At its core, it's about the biggest issues a person can encounter--how to confront the unknown, how to negotiate faith and how to be a decent and loving human being. The fact that Grace McCleen is able to address these matters with such subtlety and delicacy is no small miracle itself." —Bookpage

"Which of us, when we were small, didn't fervently wish for -- and frankly believe in -- divine intervention? [The Land of Decoration] paints an affecting and often unsettling portrait of pure faith. B+" —Entertainment Weekly

"Debut author McCleen creates a believable, compelling voice for the youthful narrator, and her portrait of a bereaved father is equally affecting…(a) haunting debut." —Kirkus

"[Grace McCleen] writes with a kind of plaintive lyricism; you ache for Judith, but keep reading, because there's something haunting and addictive about the rhythm of the sentences." —The Seattle Times