Good Luck Girls of Shipwreck Lane (Paperback)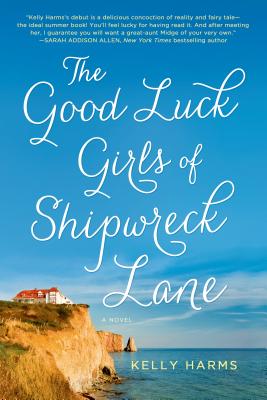 $19.99
Usually Ships in 1-5 Days
Description
---
This year's lucky winner of a brand-new dream home: Janine Brown of Cedar Falls, Iowa.
For heartbroken Janine "Janey" Brown, this announcement has the hallmarks of one of her Aunt Midge's harebrained plans to lure her from her tiny kitchen, where she's been submerging her grief in the pursuit of the perfect pot-au-feu. Meanwhile, across town, Janine "Nean" Brown couldn't be more thrilled. She just knows that this house is her destiny, the chance to escape the latest in her revolving door of crappy jobs and drunken boyfriends.
When both Janine Browns descend on Christmas Cove, Maine, to claim the prize they both think is theirs, however, they discover that more than just a dream home awaits them at the water's edge. Filled with wit and charm, The Good Luck Girls of Shipwreck Lane is Kelly Harms's enchanting and heartfelt debut--a testament to the many ways love finds us, the power of a home-cooked meal, and just what it means to be lucky.
About the Author
---
KELLY HARMS is a former editor and literary agent who has worked with a wide array of bestselling and award-winning authors of commercial fiction. She traded New York City for the writing life in Madison, Wisconsin, where she lives with her adorable and sometimes imperious toddler Griffin. The Good Luck Girls of Shipwreck Lane is her first novel.
Praise For…
---
"A delicious concoction of reality and fairy tale—the ideal summer book! You'll feel lucky for having read it. And after meeting her, I guarantee you will want a great-aunt Midge of your very own."
—Sarah Addison Allen, New York Times bestselling
"Warm-hearted and funny, The Good Luck Girls of Shipwreck Lane pulls you in with quirky yet relatable characters, intriguing relationships, and the promise of second chances. Harms's debut is as refreshingly delightful as a bowl of her character Janey's chilled pea soup with mint on a hot summer day."
—Meg Donohue, bestselling author of How to Eat a Cupcake: A Novel
"Funny, original and delightfully quirky, Kelly Harms's The Good Luck Girls of Shipwreck Lane shows us that sometimes, all we need to make it through one of life's rough patches is a change of scenery and a home-cooked meal."
—Molly Shapiro, author of Point, Click, Love: A Novel
"The characters are so well drawn that they practically leap from the page, charming dysfunction and all! A poignant, hilarious debut that's filled with heart, soul, insight and laugh-out-loud moments.
It'll make you rethink the meaning of what makes a family -- and if you're anything like me, it'll make you want to pick up and move to 1516 Shipwreck Lane immediately! I'm such a fan of this utterly charming novel."
—Kristin Harmel, international-bestselling author of Italian for Beginners and The Sweetness of Forgetting
"Kelly Harms's The Good Luck Girls of Shipwreck Lane is a delightful book bursting with good humor, fast action, and delicious food.  Aunt Midge is a pure joy, and I loved Wimmer's surprising, spirited, and generous slant on what it takes to make a family."
—Nancy Thayer, New York Times bestselling author of Summer Breeze
"Janey and Nean each have a common name and uncommon hard luck, and when they suddenly have in common a sweepstakes house, their lives begin to change in ways neither of them could have imagined. Their quirky wit will win you over, even as they fumble through their crazy new life. THE GOOD LUCK GIRLS OF SHIPWRECK LANE is alive with warmth and wit; I enjoyed it right through to the satisfying end."
—Kristina Riggle, author of Real Life & Liars, The Life You've Imagined, Things We Didn't Say and Keepsake


"A succession of plot twists keeps the reader intrigued and invested. In the manner of Mary Kay Andrews and Jennifer Weiner, Harms' novel is emotionally tender, touching, and witty." —Booklist

"[A] charming winner…A perfect recipe of clever, quirky, poignant and fun make this a delightful debut." —Kirkus

"Spunky leading ladies that you can take to the beach." —Fitness Magazine

"Former editor and agent Harms seems to have picked up some tips from the best-selling commercial authors with whom she has worked; there's big in-house enthusiasm for this debut. Great for book clubs." —Library Journal

"Love, lies, food, and past and present triumphs and sorrows deliciously intertwine in Madison author Kelly Harms's debut novel about accepting second chances." —Madison Magazine