K: A History of Baseball in Ten Pitches (Paperback)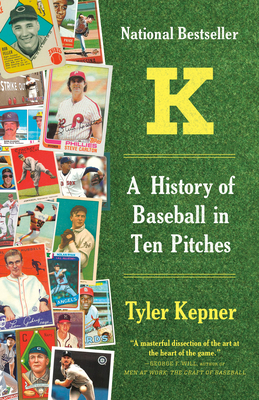 $18.00
This item is out of stock with our warehouse. Some recently published books may be in stock @ Room. Email to check.
Description
---
NATIONAL BESTSELLER • From The New York Times baseball columnist, an enchanting, enthralling history of the national pastime as told through the craft of pitching, based on years of archival research and interviews with more than three hundred people from Hall of Famers to the stars of today.

The baseball is an amazing plaything. We can grip it and hold it so many different ways, and even the slightest calibration can turn an ordinary pitch into a weapon to thwart the greatest hitters in the world. Each pitch has its own history, evolving through the decades as the masters pass it down to the next generation. From the earliest days of the game, when Candy Cummings dreamed up the curveball while flinging clamshells on a Brooklyn beach, pitchers have never stopped innovating.

In K: A History of Baseball in Ten Pitches, Tyler Kepner traces the colorful stories and fascinating folklore behind the ten major pitches. Each chapter highlights a different pitch, from the blazing fastball to the fluttering knuckleball to the slippery spitball. Infusing every page with infectious passion for the game, Kepner brings readers inside the minds of combatants sixty feet, six inches apart.

Filled with priceless insights from many of the best pitchers in baseball history--from Bob Gibson, Steve Carlton, and Nolan Ryan to Greg Maddux, Mariano Rivera, and Clayton Kershaw--K will be the definitive book on pitching and join such works as The Glory of Their Times and Moneyball as a classic of the genre.
About the Author
---
TYLER KEPNER started covering baseball as a teenager, interviewing players for a homemade magazine that was featured in The New York Times in 1989. He attended Vanderbilt University on the Grantland Rice/Fred Russell sportswriting scholarship, then covered the Angels for the Press-Enterprise (Riverside, Calif.) and the Mariners for the Seattle Post-Intelligencer. He joined The New York Times in 2000, covering the Mets for two seasons, the Yankees for eight, and serving as the national baseball writer since 2010.
Praise For…
---
"Tyler Kepner knows his stuff—by which I mean the plethora of possible assaults on the strike zone that have created the modern game: splitters, spitters, sinkers, sliders. It's all here: Cy Young's whistler; Sandy Koufax's 12-to-6 curve; the fadeaway that made Matty famous before it became a screwball and revived Warren Spahn's career. K is an education in the history, mechanics and language of pitching and as rich with detail as the craft it describes. This is inside baseball at its best. A must read for any fan who aspires to be in the know."
--Jane Leavy, New York Times bestselling author of Sandy Koufax: A Lefty's Legacy and The Big Fella: Babe Ruth and the World He Created

"There has been so much good writing on the subject of baseball that you sometimes wonder if there can be a fresh way to go about it. But Tyler Kepner turns the trick. Analytical and anecdotal, insightful and entertaining, K is a welcome addition to the baseball bookshelf."
--Bob Costas

"[An] instant classic. . .[Kepner] deftly weaves all these voices into a seamless narrative. . .K is even better than I'd hoped, and I suspect it will now take its place on all the lists of essential baseball books."
--Rob Neyer, Casey Award-winning author of Powerball: Anatomy of a Modern Baseball Game 

"Kepner, the national baseball writer for The New York Times, has chosen a nifty conceit. He's organized his history of the game around the 10 major types of pitches ... The result is a fascinating tour of the sport as seen from the mound."
-- Robert Birnbaum, The Washington Post

 "No one celebrates the details of the game quite like Kepner, The New York Times baseball columnist, and for him to deconstruct the sport down to its most crucial yet arcane element — the art of pitching — is like Michelangelo explaining the brush strokes on the Sistine Chapel."
-- David Lennon, Newsday

"You will love every single word of "K: A History of Baseball in Ten Pitches,". . .I've never read a better love letter to the sport."
-- Mike Vaccaro, The New York Post

"Make sure you pick up "K: A History of Baseball in Ten Pitches" by Tyler Kepner of the New York Times. Kepner, a former Globe intern, is the best baseball read in American newspapers today."
-- Dan Shaughnessy, Boston Globe

"Kepner puts a new spin on baseball's history that will have even the most avid fans entertained as they learn something new in each chapter." 
--Publishers Weekly, starred review

"For decades as a catcher and broadcaster, I've been fascinated by the craft of pitching. Tyler Kepner brings the pitchers—and the pitches—alive as few others ever have, with a fresh and informative trip through the history of the great American game."
–Tim McCarver, Hall of Fame broadcaster and two-time All-Star and World Series champion

"A gripping tour through the most elemental component of baseball... Kepner has worked magic."
--Kirkus Reviews, starred review 
 
"I've been a student of pitching for more than 40 years, and Tyler Kepner has captured the essence of the craft with fascinating stories and insights on every page." 
--Orel Hershiser, 1988 National League Cy Young winner and World Series MVP

"I never expected to learn so much about events I've covered and people I've known for years. With lively stories from first page to last, Tyler Kepner brilliantly traces the evolution of each pitch in gripping detail, from the earliest days of baseball through today. If you love baseball, you'll gain a whole new understanding of the game."
--Joe Buck, Emmy Award-winning broadcaster for Fox Sports

"One of baseball's enchanting oddities is that the action begins with a member of the defense holding the ball. Tyler Kepner has written a mind-opening explanation of what happens next. Chock-full of anecdotes and insights, his book is a masterful dissection of the art at the heart of the game."
--George F. Will, author of Men at Work: The Craft of Baseball