Hand Lettering Workbook: Easy Learn Creative Lettering for Getting Started in different Styles and Calligraphy (Brush, Serif, Sans Serif, Faux, (Paperback)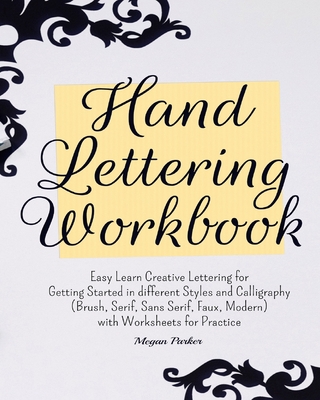 $8.95
This item is out of stock with our warehouse. Some recently published books may be in stock @ Room. Email to check.
Description
---
Are you looking for a book that teaches you different styles of hand lettering? Do you need exercises to practice with your writing style?
The more fonts that you know how to use, the better your invitations and letters will look and you will be able to impress your friends and family and even your boss. Plus, you will feel better about yourself Once you have mastered the art of hand lettering, you will be able to do things such as adding flourishes to your letters, make them dance, bounce, and even mix and match the font types to really make your writing pop
This book contains:
How to draw the most popular fonts: serif, sand serif, faux calligraphy, script and brush from alphabets letters to full sentences
The tools needed to practice in the different fonts
You find also many flourishes examples to beautify your hand lettering
Original ideas and projects you can use for your events
Plenty exercises for each font using worksheets for your practice
In this workbook, you are going to learn about a variety of different hand lettering exercises so you can learn how to write in various fonts.
With this book,
you are going to learn what tools you need to do hand lettering. Most of what you will need for hand lettering is going to be stuff that you already have at home.In each chapter, you will learn about a new font as well as learning about how to connect the letters, how to write full sentences, and how they are different from other fonts.There are plenty of exercises in each chapter of this book that are going to allow you to do the work yourself so you can fully come to understand how to do each font.The very last chapter is going to show you a variety of projects that you can do once you get the hang of the hand lettering. Hand lettering can help you decorate your house, do gifts for your family and friends, and overall make yourself feel better about how your writing looks.
SCROLL UP AND CLICK "BUY NOW"