Keeping Bedlam at Bay in the Prague Cafe (Paperback)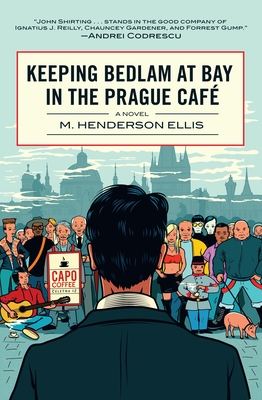 Description
---
Not long ago, John Shirting--quiet young Chicagoan, wizard of self-medication--held down a beloved job as a barista at Capo Coffee Family, a coffee chain and global business powerhouse. When he is deemed "too passionate" about his job, he is let go. Shirting makes it his mission to return to the frothy Capo's fold by singlehandedly breaking into a new market and making freshly post-communist Prague safe for free-market capitalism. Unfortunately, his college nemesis, Theodore Mizen, a certified socialist, has also moved there, and is determined to reverse the Velvet Revolution, one folk song at a time. After Shirting experiences the loss of his sole "new-hire" -- a sad, arcade game-obsessed prostitute -- it is not long before his grasp on his mission and, indeed, his sanity, comes undone, leaving him at the mercy of two-bit Mafiosi, a pair of Golem trackers, and his own disgruntled phantom.
A dazzling combination of Everything is Illuminated and Don Quixote, with a jigger of Confederacy of Dunces, and Lord of the Barnyard, Keeping Bedlam at Bay in the Prague Cafe is the first novel to so exquisitely capture the ambiance of expat Prague. Poised to be an underground classic, it asks: what does it mean to be sane in a fast-changing world?
About the Author
---
M. Henderson Ellis lived in Prague for two years in the first half of the 1990s and there taught English and tended bar. A Chicago-area native and a graduate of Bennington College, he has lived in Budapest, Hungary, since 2001, where in 2004 he co-founded the English-language literary review Pilvax, which he edits to this day. He makes his living as a writer and freelance editor at Wordpillediting.com.
Praise For…
---
"There are wonderful descriptions of the place and people that made Prague Prague. . . . There is a deft re-creation of the chaos that accompanies revolutions, and the clashing of political and social systems—no easy task—paired with a great love of Prague at that particular time, that come together to create a novel of .  . . beauty. —TheCoffinFactory.com

"As the world grows smaller, your neighbor's problems become your own. Keeping Bedlam at Bay in the Prague Cafe is a humorous novel with a strong dose of blacker comedy from M. Henderson Ellis, who discusses the concepts of globalism [and] capitalism, touching on the satire and finding the little bit of our lives to piece together our lives in the process. . . . [A] must for any contemporary literary fiction collection. Highly recommended." — Midwest Book Review

"A novel for readers who enjoy smart writing, wry humor, fresh settings, and above all, eccentric characters. . . . [F]rom Shirting's remarkable encounter with the philosophical skinhead to the novel's funny and surprisingly touching conclusion, Ellis weaves their stories together with an impressive balance of comedy and poignance."
— bookspersonally.com 

"This book comes highly recommended along with the cliched statement, 'If you're going to read one book this year, have it be . . .' Bedlam is chock full of hilarious set-pieces, strange characters, biting satire, and verbal bombast. . . . It is not only wonderfully written, but it is a book that has wide cross-over appeal. The Andrei Codrescu blurbs on the front and back cover give it the needed NPR hipster bona fides, but this is also a light comedy one can read on the beach, at the airport, and elsewhere."
— Karl Wolff, Chicago Center for Literature and Photography

"Both charming and absurd in all the best ways."
— David Gutowski, LargeHeartedBoy.com

"Difficult to put down, unsettling yet addictive, the novel is a must-read for anyone who dares to peek behind the postcard image of a famously beautiful centre of European civilization." — Winnipeg Free Press

"An ode to expatriate living, culture clashes, and the heady days of early 1990s Europe, this novel is a manic, wild ride. . . . [D]arkly comic . . . immersive, nostalgic, and thoroughly enjoyable." — Booklist

"As the title suggests, disorder predominates in Ellis's debut novel set in Prague during the dizzying days of the early 1990s. John Shirting is a quirky and unbalanced former barista from Chicago with a pill habit who winds up in the newly capitalist city hawking a plan to establish a chain of mobster-themed coffee shops. . . . The picaresque absurdity will be familiar to fans of Thomas Pynchon, along with the low-grade paranoia and aggressively whimsical dialogue. . . . . Ellis vividly re-creates the atmosphere of a city in the throes of transformation as well as the American Quixotes who populate this new frontier." — Publishers Weekly

"Former barista John Shirting from Chicago, an expat in the hallucinatory Prague of the Nineties, stands in the good company of Ignatius J. Reilly, Chauncey Gardener, and Forrest Gump as a remarkable and original member of that autistic and exclusive club. In creating Shirting, Mr. Ellis has enriched the literature of estrangement and given us a marvelous portrait of postcommunist Prague in its heady and wild rush into capitalism. This novel is a worthy addition to both expatriate writing and Czech storytelling, managing also to reflect in its rollicking drive profound insights into the ideologies of the last century."
—Andrei Codrescu, author of So Recently Rent a World: New and Selected Poems and New Orleans, Mon Amour

"John Shirting, master of mission statements and misfit of the planet, makes his way to Prague to offer change that's not needed. A loveable mess, he lives in the past while trying to escape it, often unable to tell whether he's getting better or worse, but his obsession with building a global outpost of the American coffee chain that fired him keeps him moving forward. Ellis has written a hilarious hallucinatory satire, built on shots of caffeine."  — Amanda Stern, author of The Long Haul

"With fresh and evocative language, Ellis delivers us into a frenetic and history-haunted world. By turns strange and subtle, imaginative and knowing—and also often very funny—this assured and original debut novel is a must-read for anyone, like me, who ever daydreamed about expat life in 1990s Eastern Europe but didn't have the nerve to go for it." —Rosie Schaap, author of Drinking With Men, Drink columnist, New York Times Magazine

"Thanks to Ellis's wickedly good writing and laserlike focus on the absurdities of expat life, Keeping Bedlam at Bay in the Prague Café is an arresting, hilarious, and thoroughly enjoyable novel — both a vivid portrait of an already bygone era and an up-to-the-minute snapshot of civilization in decline." — Katherine Shonk, author of Happy Now? and The Red Passport

"Don't let the title fool you. The bedlam here is never kept at bay for very long. Ellis writes with manic, overcaffeinated energy about the wild westernization of Prague after the fall of the Iron Curtain and he captures that era perfectly. A strong and lively debut." --Andrew Ervin, author of Extraordinary Renditions

"Mr. Ellis has fashioned a delightful, and ultimately moving, traipse through
Middle Europe in bitingly satiric prose reminiscent of Joseph Heller, David Markson,
and Alexander Theroux at their most playful. A pleasure."
—Joshua Cody, author of [sic]: A Memoir