Agaat (Paperback)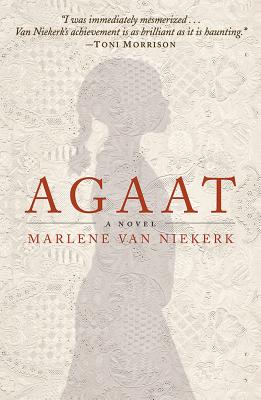 Staff Reviews
---
Written about her native apartheid South Africa and its looming collapse Van Niekerk captures a huge part of the complexity of life through one of the most carefully wrought woman characters in any novel I have ever read. Somehow in the seemingly tight confines of the rural Velt this novel handles marriage, patriarchy, politics, race and the extraordinary relationship between Milla and Agaat. — From Jeff's Picks
Description
---
"I was immediately mesmerized...Its beauty matches its depth and her achievement is as brilliant as it is haunting." --Toni Morrison
Set in apartheid South Africa, Agaat portrays the unique, forty-year relationship between Milla, a sixty-seven-year-old white woman, and her black maidservant turned caretaker, Agaat. In 1950s South Africa, life for white farmers was full of promise—young and newly married, Milla raised a son and created her own farm out of a swathe of Cape mountainside with Agaat by her side. By the 1990s, Milla's family has fallen apart, the country she knew is on the brink of huge change, and all she has left are memories and her proud, contrary, yet affectionate guardian. With haunting, lyrical prose, Marlene van Niekerk creates a story about love and loyalty.
About the Author
---
Marlene Van Niekerk is an award-winning poet, novelist and short story writer. She was awarded South Africa's high honour, the Order of Ikhamanga, in 2011 for her outstanding intellectual contribution to the literary arts and culture field through poetry, literature and philosophical works. She has received many accolades, including being a finalist for the sixth Man Booker International Prize 2015 and shortlisted for the South African Sunday Times Literary Prize, the M-Net Literary Prize, the Booksellers' Choice Award South Africa and the Independent Foreign Fiction Prize.

Michiel Heyns is the author of four novels: The Children's Day, The Reluctant Passenger, The Typewriter's Tale, and Bodies Politic. He has translated two works by Marlene van Niekerk, Agaat and Memorandum, and he has recently translated Equatoria by Tom Dreyer, (Aflame Books UK) 2008. He reviews regularly for the Sunday Independent. He was awarded the English Academy's Pringle Prize for reviewing in 2006 and the Sunday TimesFiction prize in 2007for his translation of Agaat.
Praise For…
---
[Agaat] is absolutely the most extraordinary book I've read in a long time. You must read it."Toni Morrison

"I was immediately mesmerized...Its beauty matches its depth and her achievement is as brilliant as it is haunting."Toni Morrison, author of A Mercy

"Books like 'Agaat'...are the reason people read novels, and the reason authors write them."The New York Times Book Review

"Clearly an allegory for race relations in South Africa, the novel succeeds on numerous other grounds: a rich evocation of family dynamics; a chilling portrait of bodily and mental decay; and a successful experiment in combining diaries, the second-person, and stream of consciousness."
--Publishers Weekly (starred)

"Few books I've read carry the visceral impact of Marlene van Niekerk's Agaat. . . it is stunning. . . . each dichotomylove, sorrow, purity, shame, betrayal, fidelity, goodness, and brute political willis equally and tragically real."Mary Gaitskill, Bookforum

"This is a frank novel about a white South African landowner and her lifelong servant in a radically changing country." #1 in the "Ten Titles to Pick Up Now" in O, The Oprah Magazine, August 2010

"Lyrical, yet potent prose..." Kirkus Reviews

Agaat is a tangle of language and rhyme, of wordplay and digressions. . . Both absorbing in its minutiae and provocative in its allegorical approach to apartheid, Agaat explodes the domestic sphere to encompass the world."Portland Mercury

"In addition to its vivid emotional resonance, Agaat is notable for the wealth of detail it imparts about rural life in South Africa before industrialized farming..."Hemispheres Magazine

"[Agaat] is a family saga of mothers and daughters; a deconstruction of the Little-House-on-the-Veldt romanticism in which noble white settlers tame a hostile land; a massive, wrenching catalog of illness (physical and metaphysical); and a poetic exploration of control and the loss of control. It's a stylishly inventive book..."The Rumpus

Van Niekerk has created a work of stunning breadth and emotional potency." Publishing Perspectives

An exceptional booktough and brutal, lyrical and sensitive'
--Henk Propper, Vrij Nederland

Fascinating and moving, this is, above all, a love story.'
--Kate Saunders, The Times (London)

A wonderful read for dark January nights.'
--Good Housekeeping Book of the Month

"The most important South African novel since Coetzee's Disgrace."
The Times Literary Supplement

"A masterpiece has arrived"South African Sunday Times

"Voluminous, detailed, momentous . . . It is an allegory of colonial exploitation, apartheid, and the precarious steps toward reconciliation"Independent