The Sirius Mystery: New Scientific Evidence of Alien Contact 5,000 Years Ago (Paperback)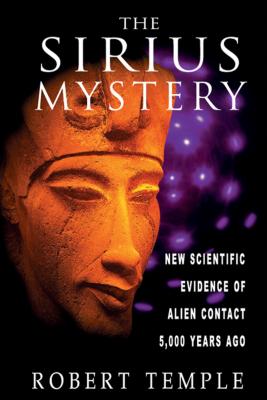 $24.99

In stock with our warehouse--usually ships within 1-7 days. May or may not be in stock at Room.
Description
---
Convincing evidence that the Egyptian, Sumerian, and Dogon civilizations were founded by aliens from the Sirius star system who are now ready to return

• Updated with 140 pages of new scientific evidence that solidifies the hypothesis that the KGB, CIA, and NASA attempted to suppress

• An awe-inspiring work of research that calls for a profound reappraisal of our role in the universe

• Over 10,000 copies sold in its first two months of release in Britain

Publication of The Sirius Mystery in 1976 set the world abuzz with talk of an extraterrestrial origin to human civilization and triggered a 15-year persecution campaign against Robert Temple by the KGB, CIA, NASA, and other government agencies. Undaunted, however, Temple is back, with 140 pages of new scientific evidence that makes his hypothesis more compelling than ever.

Many authors have speculated on the subject of extraterrestrial contact, but never before has such detailed evidence been presented. Temple applies his in-depth knowledge of ancient history, mythology, Pythagorean physics, chaos theory, and Greek, to a close examination of the measurements of the Great Pyramid of Giza, which was built to align directly with the star Sirius. He concludes that the alien civilization of Sirius and our own civilization are part of the same harmonic system, and are destined to function and resonate together. His findings warrant a profound reappraisal of our role in the universe.
About the Author
---
Robert Temple is visiting professor of the history and philosophy of science at Tsinghua University in Beijing; fellow of the Royal Astronomical Society; member of the Egypt Exploration Society, Royal Historical Society, Institute of Classical Studies, and the Society for the Promotion of Hellenic Studies; and visiting research fellow of the University of the Aegean in Greece. He is the author of 12 books, including The Sphinx Mystery, The Sirius Mystery, Oracles of the Dead, and The Genius of China. He wrote, produced, and presented the documentary film Descent into Hell, based upon his book, Oracles of the Dead, for National Geographic Channel. His translation of the Epic of Gilgamesh was staged at the Royal National Theatre in London in 1993. He resides in England with his wife, Olivia. They are joint translators of Aesop: The Complete Fables.
Praise For…
---
"The most exciting and scholarly exposition of the theory of extraterrestrial intervention yet written."
— John Michell, author of Secrets of the Stones and A Traveler's Key to Sacred England

"The Sirius Mystery argues with some sophistication the likelihood that superior beings from Sirius visited earth between 7,000 and 10,000 years ago. . . . Temple unleashes a torrent of arcane information . . . a swirl of genuine astronomical mysteries, anthropological dates, and the tricky cross-currents of comparative mythology."
— Time Magazine

"A fascinating book because the nugget of mystery Temple has mined and polished is from a pure vein. . . . The Sirius Mystery should be taken seriously."
— Nature Magazine

"Von Daniken and Velikovsky followers should have a good time with this book, which is buttressed by some impressive looking scholarly apparatus."
— Publishers Weekly

"Before dismissing Mr. Temple's theme as fantasy or science fiction one should read his well-documented book and examine his case without prejudice."
— Oxford Mail

"The mind not only bends but warps."
— Kirkus

"The mind boggles....Robert Temple is cautious. He has intellectual integrity...(his) massive research into the ancient mythologies of numerous civilizations and cultures one can only regard with awe."
— Sunday Times (London)