The Virginia State Colony for Epileptics and Feebleminded: Poems (Paperback)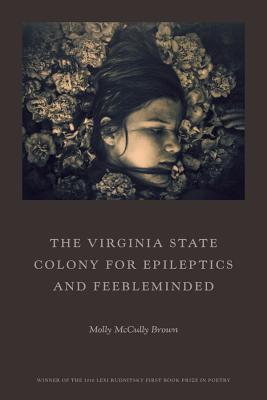 Description
---
A New York Times Critics' Top Book of 2017

Harrowing poems from a dark corner of American history by the winner of the 2016 Lexi Rudnitsky First Book Prize in Poetry.  
Haunted by the voices of those committed to the notorious Virginia State Colony, epicenter of the American eugenics movement in the first half of the twentieth century, this evocative debut marks the emergence of a poet of exceptional poise and compassion, who grew up in the shadow of the Colony itself.
About the Author
---
Molly McCully Brown received her MFA from the University of Mississippi, and is a graduate of Stanford University and Simon's Rock of Bard College. She has published poems in Gulf Coast, Image, Kenyon Review, and elsewhere.
Praise For…
---
Molly McCully Brown's first book of poems, The Virginia State Colony for Epileptics and Feebleminded, is part history lesson, part séance, part ode to dread. It arrives as if clutching a spray of dead flowers. It is beautiful and devastating.


Brown's humbling and heartbreaking poems restore dignity to lives sacrificed in the name of perfection.

...[a] fierce and lyric debut...

The Virginia State Colony for Epileptics and Feebleminded is art, and purposeful and fantastic art at that... Brown deserves every praise that comes her way – the poetry is incredible, and the history that it reveals as painful as it is necessary to understand.


Brown rounds what others compress as she lends depth, historical and personal, to the complex and suppressed identities that physical distress creates. The desire for something to reach out and save, to touch or not be touched by God or by human hands, carries an eerie undercurrent through the text.

[Molly McCully Brown] makes us feel empathy and respect for those who were deemed unfit for society. Brown not only delves into a shameful chapter of American history; she also finds a way to remind us of the complexity of the human mind. 
Coverage from NPR