Death Blossoms: Reflections from a Prisoner of Conscience, Expanded Edition (City Lights Open Media) (Paperback)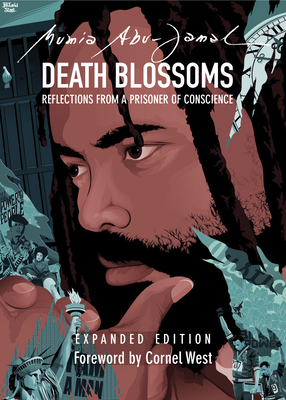 $16.95

Usually Ships in 2-7 Days
Description
---
Profound meditations on life, death, freedom, family, and faith, written by radical Black journalist, Mumia Abu-Jamal, while he was awaiting his execution.
Uncompromising, disturbing . . . Abu-Jamal's voice has the clarity and candor of a man whose impending death emboldens him to say what is on his mind without fear of consequence.--The Boston Globe
A brilliant, lucid meditation on the moral obligation of political commitment by a deeply ethical--and deeply wronged--human being. Mumia should be freed, now.--Henry Louis Gates, Jr., Alphonse Fletcher, Jr. University Professor & Director of the Hutchins Center for African & African American Research at Harvard University
A brilliant, powerful book by a prophetic writer . . . his language glows with an affirming flame.--Jonathan Kozol, author of Death at an Early Age and Rachel and Her Children
Journalist and activist Mumia Abu-Jamal has been imprisoned since 1982 for the killing of a police officer, a crime he steadfastly maintained he did not commit. In 1996, after serving more than a decade on death row, and with the likelihood of execution looming, he began receiving regular visits from members of the Bruderhof spiritual community, a group of refugees from Hitler's Germany. Inspired by these encounters, Mumia began to write a series of personal essays reflecting on his search for spiritual meaning within a society plagued by materialism, hypocrisy, and violence. Many people say it is insane to resist the system, writes Mumia, but actually it is insane not to.
This expanded edition of Death Blossoms brings a classic, influential work back into print with a new introduction by Mumia, and includes the entire text of a groundbreaking report by Amnesty International detailing the legal improprieties and chronic injustices that marred his trial.
Praise for Death Blossoms, Expanded Edition:
For years in my classrooms I have watched Death Blossoms do its luminous work. It has awakened the conscience of so many of my student readers. Once awakened, they begin to shoulder the disciplines of its revolutionary knowing, moral passion, historical precision and clarity of reason. No wonder repressive powers seek death for this prisoner of conscience. Alas for them, Mumia still lives. From streets to classrooms and back, Death Blossoms keeps opening up consciences, hearts, and minds for our revolutionary work.--Mark Lewis Taylor, Professor of Theology and Culture at Princeton Theological Seminary, and author of The Theological and the Political: On the Weight of the World
Targeted by the FBI's COINTELPRO for his revolutionary politics, imprisoned, and sentenced to death, Mumia found freedom in resistance. His reflections here--on race, spirituality, on struggle, and life--illuminate this path to freedom for us all.--Joshua Bloom, co-author with Waldo E. Martin Jr. of Black Against Empire: The History and Politics of the Black Panther Party
In this revised edition of his groundbreaking work, Death Blossoms, convicted death row prisoner Mumia Abu-Jamal tackles hard and existential questions, searching for God and a greater meaning in a caged life that may be cut short if the state has its way and takes his life. As readers follow Mumia's journey through his poems, short essays, and longer musings, they will learn not only about this singular individual who has retained his humanity despite the ever present threat of execution, but also about themselves and our society: what we are willing to tolerate and who we are willing to cast aside. If there is any justice, Mumia will prevail in his battle for his life and for his freedom.--Lara Bazelon, author of Rectify: The Power of Restorative Justice After Wrongful Conviction
Mumia Abu-Jamal has challenged us to see the prison at the center of a long history of US oppression, and he has inspired us to keep faith with ordinary struggles against injustice under the most terrible odds and circumstances. Written more than two decades ago, Death Blossoms helps us to see beyond prison walls; it is as timely and as necessary as the day it was published.--Nikhil Pal Singh, founding faculty director of the NYU Prison Education Program, author of Race and America's Long War
For over three decades, the words of Mumia Abu-Jamal have been tools many young activists have used to connect the dots of empire, racism, and resistance. The welcome reissue of Death Blossoms is a chance to reconnect with Abu-Jamal's prophetic voice, one that needs to be heard now more than ever.--Hilary Moore and James Tracy, co-authors of No Fascist USA , The John Brown Anti-Klan Committee and Lessons for Today's Movements
About the Author
---
Mumia Abu-Jamal is an award-winning journalist, political activist, and author. In 1981, he was elected president of the Association of Black Journalists (Philadelphia chapter) and was a radio reporter for National Public Radio (NPR). As part of a team of reporters at WHYY, one of NPR's premier stations, he won the prestigious Major Armstrong Award from Columbia University for excellence in broadcasting.On December 9, 1981, Abu-Jamal was shot, arrested, and charged for killing a white police officer in Philadelphia. In 1982 he was convicted and sentenced to death in a trial that Amnesty International determined "clearly failed to meet minimum international standards safeguarding the fairness of legal proceedings." After he had spent over 28 years on Death Row, in 2011 Abu-Jamal's death sentence was vacated when the Supreme Court affirmed the decisions of four federal judges who had declared his death sentence unconstitutional. He is now serving a life sentence without the possibility of parole. Throughout his decades of imprisonment, most of which was spent in solitary confinement on Death Row, Abu-Jamal has steadfastly maintained his innocence.Abu-Jamal obtained his GED in prison in July 1992; he earned his BA from Goddard College in January 1996; he was awarded an honorary Doctorate of Law degree from the New College of California in May1996; and in 1999, he earned a Masters of Arts degree from California State University, Dominguez Hills. He is currently working on his Ph.D.Abu-Jamal has produced radio commentaries with Prison Radio for decades, and has authored more than 10 books, including Death Blossoms, Live From Death Row, We Want Freedom, Jailhouse Lawyers, The Classroom and the Cell, Murder Incorporated, Writing on the Wall, and Have Black Lives Ever Mattered? In late 2018, Abu-Jamal's right to appeal was reinstated by a Philadelphia judge. The ongoing fight for his freedom continuesbringmumiahome.comprisonradio.org/mumia-infoCornel West is a prominent and provocative democratic intellectual. He is Professor of the Practice of Public Philosophy at Harvard University and holds the title of Professor Emeritus at Princeton University. He has also taught at Union Theological Seminary, Yale, Harvard, and the University of Paris. Cornel West graduated Magna Cum Laude from Harvard in three years and obtained his M.A. and Ph.D. in Philosophy at Princeton. His books include Race Matters, Democracy Matters, Brother West, and Black Prophetic Fire. Julia Wright is the daughter of American author Richard Wright.