Sigmar Polke: Alibis 1963-2010 (Hardcover)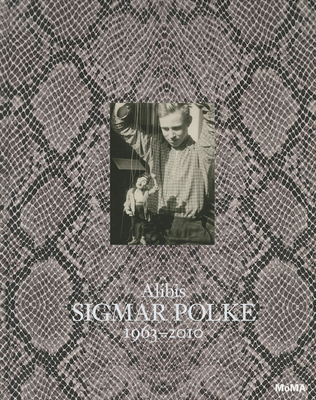 $75.00
Email or call for price.
Description
---
Working across an unusually broad range of media, including painting, photography, film, drawing and sculpture, Sigmar Polke is widely regarded as one of the most influential and experimental artists of the post-war generation. His irreverent wit and promiscuous intelligence, coupled with his exceptional grasp of the properties of his materials, provided the foundation for his punishing critiques of the conventions of art history and social behavior. Experimenting wildly with materials and tools as varied as meteor dust and the xerox machine, Polke made work of both an intimate and monumental scale, drawn from sources as diverse as newspaper headlines and D rer prints. Polke avoided any one signature style, a fluid method best defined by the word "alibi," which means "in or at another place." This also is a reminder of the deflection of responsibility which shaped German behavior during the Nazi period, compelling Polke's generation to reinvent the role of the artist. Published in conjunction with Alibis: Sigmar Polke 1963-2010, the first exhibition to encompass the artist's work across all media, this richly illustrated publication provides an overview of his cross-disciplinary innovations and career. Essays by Kathy Halbreich, Associate Director of The Museum of Modern Art; Mark Godfrey, Curator of International Art, Tate Modern; and a range of scholars and artists examine the full range of Polke's exceptionally inventive oeuvre and place his enormous skepticism of all social, political and artistic conventions against German history. Sigmar Polke (1941-2010) was born in Oels, in eastern Germany, now Olesnica in present-day Poland. At the end of World War II, Polke and his family fled to East Germany and, in 1953, escaped to D sseldorf, where he was trained as a glass painter and subsequently studied at the Kunstakademie D sseldorf. Since the late 1960s, Polke's work has been shown widely, including solo exhibitions at European and American museums. His last major work was a commission for 12 stained glass windows of the Grossm nster in Zurich, Switzerland, completed in 2009.--Holland Cotter "The New York Times.
About the Author
---
Kathy Halbreich is Associate Director at The Museum of Modern Art.Mark Godfrey is Senior Curator of International Art (Europe and Americas) at Tate Modern in London.Lanka Tattersall is Assistant Curator at the Museum of Contemporary Art, Los Angeles.Magnus Schaefer is a Curatorial Assistant in the Department of Drawings and Prints at The Museum of Modern Art, New York.Paul Chan is an American artist, writer and founder of the art and ebook publishing company Badlands Unlimited, based in New York City.Christophe Cherix is The Robert Lehman Foundation Chief Curator of Drawings and Prints at The Museum of Modern Art.Tacita Dean is an English filmmaker and visual artist.Barbara Engelbach is a curator at the Museum Ludwig, Cologne.Stefan Gronert is a curator of the graphics collection at the Kunstmuseum and teaches art history at the University of Bonn, specializing in photography.Rachel Jans is Assistant Curator at The San Francisco Museum of Modern Art.