Studying Wisconsin: The Life of Increase Lapham, early chronicler of plants, rocks, rivers, mounds and all things Wisconsin (Hardcover)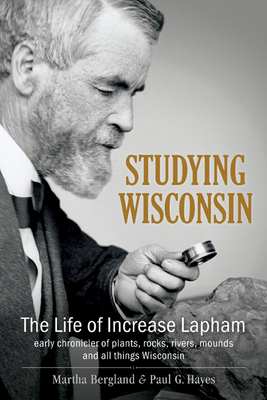 $26.95
Email or call for price.
Description
---

With masterful storytelling, Bergland and Hayes demonstrate how Lapham blended his ravenous curiosity with an equable temperament and a passion for detail to create a legacy that is still relevant today.
—John Gurda
In this long overdue tribute to Wisconsin's first scientist, authors Martha Bergland and Paul G. Hayes explore the remarkable life and achievements of Increase Lapham (1811–1875). Lapham's ability to observe, understand, and meticulously catalog the natural world marked all of his work, from his days as a teenage surveyor on the Erie Canal to his last great contribution as state geologist.
Self-taught, Lapham mastered botany, geology, archaeology, limnology, mineralogy, engineering, meteorology, and cartography. A prolific writer, his 1844 guide to the territory was the first book published in Wisconsin. Asked late in life which field of science was his specialty, he replied simply, "I am studying Wisconsin."
Lapham identified and preserved thousands of botanical specimens. He surveyed and mapped Wisconsin's effigy mounds. He was a force behind the creation of the National Weather Service, lobbying for a storm warning system to protect Great Lakes sailors. Told in compelling detail through Lapham's letters, journals, books, and articles, Studying Wisconsin chronicles the life and times of Wisconsin's pioneer citizen-scientist.
About the Author
---
After her retirement from teaching English at Milwaukee Area Technical College, Martha Bergland took a short break from fiction to write an article on Lapham for Milwaukee Magazine. This break became five years of studying Increase Lapham. Bergland has written two novels, A Farm Under A Lake and Idle Curiosity, both published by Graywolf, as well as short stories, essays, and articles, and is the recipient of a Pushcart Prize. She grew up in central Illinois and lives in Glendale, Wisconsin.
During 33 years at The Milwaukee Journal, science reporter Paul G. Hayes often relied on the work of Increase A. Lapham, whose home had been three blocks north of the newspaper office. After retiring in 1995, Hayes continued to write, often referring to Lapham and his contributions. This biography is a fitting finale to a fifty-year acquaintance. A native of Illinois, Paul and his wife Philia live in Cedarburg, Wisconsin, where they raised two sons, Nick and John.
Praise For…
---
With masterful storytelling, Bergland and Hayes demonstrate how Lapham blended his ravenous curiosity with an equable temperament and a passion for detail to create a legacy that is still relevant today. (John Gurda, Historian)

Long in coming, Studying Wisconsin:The Life of Increase Lapham is a satisfying look at a fascinating and influential Wisconsinite. (Vicki Medland, Voyageur Magazine, Summer/Fall 2016)

His name says it all: Increase Lapham was determined to increase human knowledge and understanding and devoted his life to those tasks.
(David Luhrssen, expressmilwaukee.com)

A masterpiece of meticulous and detailed scholarship, Studying Wisconsin: The Life of Increase Lapham, early chronicler of plants, rocks, rivers, mounds, and all things Wisconsin is an impressive and seminal biography that does full justice to the contributions made by Increase Lapham. A full bodied account of his life and times...Studying Wisconsin is an exceptionally written and fascinating read from beginning to end and a very highly recommended addition to every Wisconsin community and academic library biography collection."(Michael Dunford, Midwest Book Review)

At long last we have a biography of Increase A. Lapham, one of Wisconsin's most important early residents...surveyor, botanist, geologist, antiquarian, meterologist, limnologist, and all around good citizen.  Thanks to Martha Bergaland and Paul G. hayes, we now have a well-researched abd readable account of a true Renaissance man...The deeper one reads into this biography, the more one realizes how central Lapham was to the advancement of science not just in Wisconsin but in the nation.  Lapham was the first to document a lunar tide in Lake Michigan. He made systematic meterological observations and, because of terrible shipwrecks on the Great Lakes, he advicated for a storm warning system, which eventually evolved into the National Weather Service. (Robert Dott Jr., Wisconsin Acedemy of Sciences, Arts and Letters)