Equine Biomechanics for Riding: The Key to Balanced Riding (Paperback)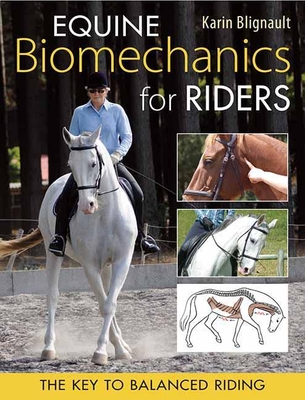 $57.95
Email or call for price.
Description
---
By understanding how the horse's biomechanics work and how to influence them, most of the misunderstanding between horse and rider is avoidable, and the vast majority of schooling problems solvable. Although in its infancy, equine sport science teaches us how a horse's body and mind functions. Through an understanding of this natural science, together with literature left to us by the classical masters, training horses, without the dependence on gadgets, becomes extremely easy and logical. The knowledge of equine biomechanics turns horse training and riding teaching into a completely logical process. In this work, Karin Blignault investigates the horse's natural methods of performing movements and compares this with the movements he performs in dressage and jumping. Examining each individual gait and movement--including lateral work, piaffe, passage, flying changes--the author highlights the biomechanical difficulties the horse encounters in his effort to please the rider, gives suggestions to riders and trainers on how to overcome these difficulties, and further gives judges pointers on how to recognize these problems.
About the Author
---
Karin Blignault competes in high-level dressage, teaches riding and participates in equestrian seminars. Having studied occupational therapy, Karin took a diploma in the education of children with learning difficulties and then studied neuro-developmental therapy. Following this she went on to lecture on the development of visual perception and learning theory. Karin became increasingly aware of the parallels between communication techniques and the facilitation of movement in disabled children, and the key concepts of classical equitation. Further exploration of these parallels, in which she combined her knowledge of anatomy and neurology with her equestrian expertise, led to her writing the highly acclaimed Successful Schooling: Train Your Horse with Empathy, after which she produced Stretch Exercises for Your Horse.