Thirty Rooms to Hide In: Insanity, Addiction, and Rock 'n' Roll in the Shadow of the Mayo Clinic (Hardcover)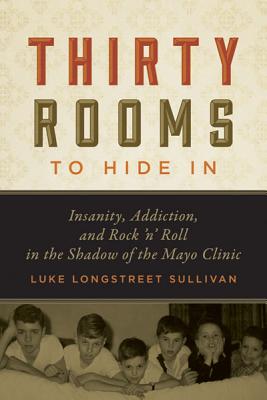 Description
---
Author Luke Longstreet Sullivan has a simple way of describing his new memoir: "It's like The Shining . . . only funnier." And as this astonishing account reveals, the comment is accurate. Thirty Rooms to HideIn tells the story of Sullivan's father and his descent from being one of the world's top orthopedic surgeons at the Mayo Clinic to a man who is increasingly abusive, alcoholic, and insane, ultimately dying alone on the floor of a Georgia motel. For his wife and six sons, the years prior to his death were years of turmoil, anger, and family dysfunction; but somehow, they were also a time of real happiness for Sullivan and his five brothers, full of dark humor and much laughter.
Through the 1950s and 1960s, the six brothers had a wildly fun and thoroughly dysfunctional childhood living in a forbidding thirty-room mansion, known as the Millstone, on the outskirts of Rochester, Minnesota. The many rooms of the immense home, as well as their mother's loving protection, allowed the Sullivan brothers to grow up as normal, mischievous boys. Against a backdrop of the times—the Cold War, the Cuban Missile Crisis, fallout shelters, JFK's assassination, and the Beatles—the cracks in their home life and their father's psyche continue to widen. When their mother decides to leave the Millstone and move the family across town, the Sullivan boys are able to find solace in each other and in rock 'n' roll.
As Thirty Rooms to HideIn follows the story of the Sullivan family—at times grim, at others poignant—there is a wonderful, dark humor that lifts the narrative. Tragic, funny, and powerfully evocative of the 1950s and 1960s, Thirty Rooms to Hide In is a tale of public success and private dysfunction, personal and familial resilience, and the strange power of humor to give refuge when it is needed most, even if it can't always provide the answers.


About the Author
---
Luke Longstreet Sullivan is chair of the advertising department at the Savannah College of Art & Design. Born and raised in Rochester, Minnesota, he currently resides in Savannah, Georgia, with his wife and two sons.