Public Enemy: Confessions of an American Dissident (Hardcover)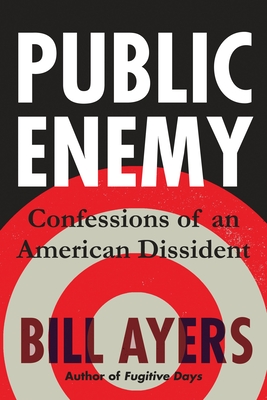 $24.95
This item is out of stock with our warehouse. Some recently published books may be in stock @ Room. Email to check.
Description
---
In this sequel to Fugitive Days, Ayers charts his life after the Weather Underground, when he becomes the GOP's flaunted "domestic terrorist," a "public enemy."
 
Labeled a "domestic terrorist" by the McCain campaign in 2008 and used by the radical right in an attempt to castigate Obama for "pallin' around with terrorists," Bill Ayers is in fact a dedicated teacher, father, and social justice advocate with a sharp memory and even sharper wit.  Public Enemy tells his story from the moment he and his wife, Bernardine Dohrn, emerged from years on the run and rebuilt their lives as public figures, often celebrated for their community work and much hated by the radical right. In the face of defamation by conservative media, including a multimillion-dollar campaign aimed solely at demonizing Ayers, and in spite of frequent death threats, Bill and Bernardine stay true to their core beliefs in the power of protest, demonstration, and deep commitment.  Ayers reveals how he has navigated the challenges and triumphs of this public life with steadfastness and a dash of good humor—from the red carpet at the Oscars, to prison vigils and airports (where he is often detained and where he finally "confesses" that he did write Dreams from My Father), and ultimately on the ground at Grant Park in 2008 and again in 2012.
About the Author
---
Bill Ayers is the author of the acclaimed and controversial memoir Fugitive Days and many books on education, including To Teach, Teaching Toward Freedom, and A Kind and Just Parent. He lives in Hyde Park, Chicago.
Praise For…
---
"[A] witty and spirited follow-up to Fugitive Days . . . Among the book's many edifying elements, including insight into the inner life and deep humanity of a man portrayed as a 'cartoon character,' is the author's conversational style and whimsical sense of humor. . . . Through humor and self-reflection, the book offers a complex portrait of Ayers, including his experiences as an early education specialist, professor, husband (to former Weather Underground leader Bernardine Dohrn), father of three, author, and activist. . . . Often times riotously funny, yet also plainspoken and serious, this is a memoir of impressive range." —Publishers Weekly, starred review

"This compelling sequel to Ayers' Fugitive Days describes the author's chaotic life after he and his wife, Bernadette Dohrn, became the topic and target of conversation during Barack Obama's first run for the presidency. . . . Demonized and blacklisted, Ayers maintains not only his sanity but also his humor. . . . A wonderful homage to free speech." —Booklist, starred review

"The one-time Weather Underground fugitive talks about his life as a political bogeyman. . . . His writing is thoughtful, penetratingly insightful and marvelously lacking in self-pity.
No matter how they feel about his politics, readers of this memoir should find the author's humanity irresistible." —Kirkus Reviews

"The legendary Bill Ayers is at his spellbinding best in Public Enemy—a brilliant, spirited document of a revolutionary life in our not-so-revolutionary age. One of the most compelling, insightful memoirs of the year." —Junot Díaz, author of The Brief Wondrous Life of Oscar Wao
 
"An inspiring, ripping read. Apart from being a committed activist, engaging thinker, and brilliant parent, Bill Ayers is a great storyteller." —Aleksandar Hemon, author ofThe Lazarus Project

"Bill Ayers is a master teacher, a master storyteller, and a clarion-clear voice of conscience and commitment. Here he is, standing calmly at the center of the never-ending maelstrom, a public enemy trying to make meaning and change and sense of it all." —Adam Mansbach, author of Rage Is Back 

"Bill Ayers writes eloquently of the profound challenges, the joys, and the toll of embracing a deep, lifelong commitment to social change. He has confronted power for more than half a century: in the civil rights movement, against the Vietnam War, living underground for over a decade, and during his long career as a respected educator. This deeply personal memoir spans the gap from the '60s to the present day, framing the current so-called war on terror in a critical, urgent light." —Amy Goodman, author of The Exception to the Rulers
 
"With incisive humor, Bill Ayers's captivating memoir reveals that behind the fearsome 'public enemy' lies a deeply dedicated parent, compassionate teacher, and principled revolutionary activist, representing this country's best hopes for a democratic future." —Angela Davis, author of Women, Race, and Class

"In no way apologetic, the book is a well-written consideration of an engaged life lived in a contentious time." —Counterpunch