Unashamed: Musings of a Fat, Black Muslim (Hardcover)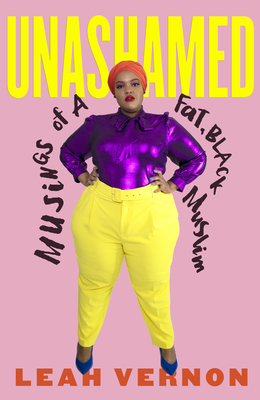 $24.95
This item is out of stock with our warehouse. Some recently published books may be in stock @ Room. Email to check.
Description
---
A Muslim woman's searingly honest memoir of her journey toward self-acceptance as she comes to see her body as a symbol of rebellion and hope—and chooses to live her life unapologetically

Ever since she was little, Leah Vernon was told what to believe and how to act. There wasn't any room for imperfection. 'Good' Muslim girls listened more than they spoke. They didn't have a missing father or a mother with a mental disability. They didn't have fat bodies or grow up wishing they could be like the white characters they saw on TV. They didn't have husbands who abused and cheated on them. They certainly didn't have secret abortions. In Unashamed, Vernon takes to task the myth of the perfect Muslim woman with frank dispatches on her love-hate relationship with her hijab and her faith, race, weight, mental health, domestic violence, sexuality, the millennial world of dating, and the process of finding her voice.

She opens up about her tumultuous adolescence living at the poverty line with her fiercely loving but troubled mother, her absent dad, her siblings, and the violent dissolution of her 10-year marriage. Tired of the constant policing of her clothing in the name of Islam and Western beauty standards, Vernon reflects on her experiences with hustling paycheck to paycheck, body-shaming, and redefining what it means to be a "good" Muslim.

Irreverent, youthful, and funny, Unashamed gives anyone who is marginalized permission to live unapologetic, confident lives.


"Vernon's determined advocacy for body positivity as a feminist and mental health issue, and her painful journey to self-acceptance, are moving and powerful, forcing readers to examine their own preconceptions about beauty standards and health." —Booklist
About the Author
---
Leah Vernon is a plus-size Hijabi model, social media influencer, public speaker, and freelance writer. She's been featured by Buzzfeed, Yahoo, CBC, Cosmopolitan, Marie Claire, Seventeen, and the New York Times, and she's worked with brands including Adidas, Lululemon, and Universal Standard. She speaks at universities and organizations across the country on topics of intersectional feminism, race, religion and spirituality, cultural sensitivity, social media, and branding. She grew up in Detroit but currently resides in New York City. Connect with her on Instagram (@Lvernon2000) and on her website (Leahvernon.com).
Praise For…
---
"Vernon's determined advocacy for body positivity as a feminist and mental health issue, and her painful journey to self-acceptance, are moving and powerful, forcing readers to examine their own preconceptions about beauty standards and health."
—Booklist

"Anyone feeling like an outsider, outcast, or underdog will relate to Vernon's honest rendition of her childhood and teenage years."
—Buzzfeed

"This candid memoir will be of interest for those who have experienced emotional, physical, or sexual violence, and who are seeking forceful encouragement toward self-empowerment and self-expression."
—Library Journal

"Vernon's narration reads like an intimate heart-to-heart chat with a friend . . . Irreverent, vulnerable, and unapologetic in every sense."
—Kirkus Reviews

"Readers will head straight to her Instagram if they aren't established fans. Tough topics like mental illness, domestic violence, and abortion are covered unflinchingly, with a frankness that will appeal to older teens."
—School Library Journal

"Deeply powerful in its vulnerability, Unashamed invites us into the pain, beauty, and redemption that have shaped Leah Vernon. We are transformed through the act of witnessing . . . . One of the most generous memoirs I've ever read."
—Virgie Tovar, author of You Have the Right to Remain Fat

"I love the fierce, unflinching honesty and integrity in Unashamed . . . . I laughed and cried and read this book in awe of Leah Vernon's brave, bold, and beautiful voice."
—Randa Abdel-Fattah, author of The Lines We Cross and Does My Head Look Big in This?

"Unashamed is everything Leah Vernon embodies on a daily basis: authenticity, resiliency, and, most of all . . . unquestionable courage . . . . I'm so thankful for Leah: the fantastically powerful force behind this literary triumph."
—Jes Baker, author of Things No One Will Tell Fat Girls and Landwhale