Karate the Art of Empty-Hand Fighting: The Classic Work on Traditional Japanese Karate (Paperback)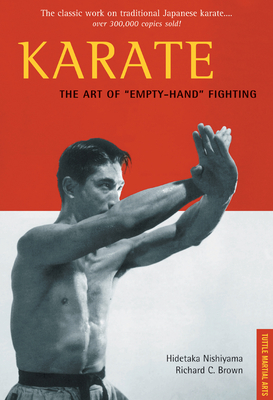 $15.95
This item is out of stock with our warehouse. Some recently published books may be in stock @ Room. Email to check.
Description
---
Master the techniques and theory of Japanese Karate with this easy-to-follow, illustrated martial arts guide.
Karate: The Art of Empty-Hand Fighting
has inspired hundreds of thousands of karateka, and it remains one of the finest texts available on the technique, art, and spirit of karatedo. This definitive volume is a systematic presentation of the art of traditional Japanese karate. An easily accessible martial arts manual illustrated with more than 1,000 photographs, this comprehensive karate book gives step-by-step explanations and thorough analysis of all the basic movements and techniques of karate.
Topics of Karate the Art of Empty-Hand Fighting include:
The history of Karate
The theories and principle of Karate
The best training and exercise methods
Karate techniques like stance, blocking and attacks
Defenses against weapons
About the Author
---
Hidetaka Nishiyama (1928-2008) began his study in 1943 as a student of Gichin Funakoshi, founder of Shotokan Karate. Nishiyama-sensei was an internationally recognized instructor, author, and administrator, and helped to establish the Japan Karate Association (JKA). He was a member of the delegation that introduced the study of Japanese martial arts to the U.S. Air Force Strategic Air Command and subsequently to the U.S. as a whole. Richard C. Brown is a senior American member of the Japan Karate Association (JKA).