Brazilian Jiu-Jitsu: The Ultimate Guide to Dominating Brazilian Jiu-Jitsu and Mixed Martial Arts Combat (Paperback)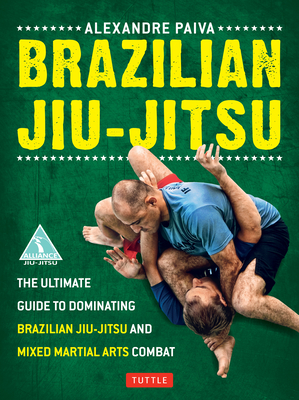 $24.95

In stock with our warehouse--usually ships within 1-7 days. May or may not be in stock at Room.
Description
---
Brazilian Jiu-Jitsu is a guide to the most efficient and devastating techniques in popular martial arts by World Champion and Brazilian Jiu-Jitsu legend Alexandre Paiva.
The book contains over 1,000 full-color photographs demonstrating the moves that made the author the most feared competitor in BJJ circles and now one of the most sought-after instructors. Jiu-Jitsu or Jujutsu came into prominence in the early 90's when jiu-jitsu expert Royce Gracie won the first, second, and fourth Ultimate Fighting Championships against much larger opponents who were using other styles such as boxing, muay thai, karate, and wrestling. Since then it has become one of the most popular methods in MMA due to its focus on ground fighting. Learn the techniques that have proven dominant in Brazilian Jiu-Jitsu tournaments and the Mixed Martial Arts cage:
Takedowns
The Closed Guard
Passing The Closed Guard
Butterfly Guard
Open Guard Pass
Side Control
Half Guard
Back Mount
With sections devoted to both gi and no-gi techniques, whether training for a Brazilian Jiu-Jitsu tournament or a Mixed Martial Arts fight,
Brazilian Jiu-Jitsu
is one book no true competitor can afford to miss.
About the Author
---
Alexandre "Gigi" Paiva is a legendary figure in the world of Brazilian Jiu-Jutsu. He has been World Champion, Pan American Champion, World Bronze Medalist, and five-time Champion of Campeonato Internacional de Masters e Seniors de Jiu-Jitsu. He is also one of the founders of Alliance Jiu-Jitsu--the only team to win every major BJJ competition in a single year--and heads their academy in Rio de Janeiro, Brazil. Paiva's students include two-time World Champion Fernando "Terere" Augusto da Silva and Mitsuyoshi Hayakawa, two-time winner of the All-Japan BJJ Open.
Praise For…
---
"Alexandre Paiva is one of the most technical fighters of our generation. A great competitor has also become a great teacher. Along with his Master Romero Jacare and his friend Fabio Gurgel, he is a major contributor to the success of his team in the Alliance BJJ tournaments. A man of character, he is an example to be followed inside and outside the mat by the young."—Murilo Bustamante, Brazilian Jiu-Jitsu World Champion and former UFC Middleweight Champion

"Alexandre is one of the most technical guys that I had ever rolled with, excellent teacher and great person. If he is showing his moves in this book, you must have it: his techniques are unique. We have been working together for more then 25 years in order to build the Alliance school and I hope we can have at least 25 years more."—Fabio Gurgel, eight-time Brazilian Jiu-Jitsu World Champion and president of the Brazil-based Professional League of Jiu Jitsu

"I've always heard of Alexandre Paiva (Gigi) and what he knew when it came to jiu-jitsu, but when I met him in person he was an encyclopedia of jiu-jitsu. In the little time I knew him I learned a lot. And I'm sure I'll learn even more because he is an excellent teacher."—Rubens "Cobrinha" Charles, six-time Brazilian Jiu-Jitsu World Champion

"Alexandre "Gigi" Paiva is one of the legends of Brazilian Jiu-Jitsu. Everyone knows him in Brazil, but being World Champion and being one of the founders of the World Champion Alliance-team, and having students all over the world, has established his name worldwide. I was lucky to meet him more than a decade ago in a seminar and was immediately impressed with his knowledge of techniques and physical ability to execute them… Today, I'm lucky to say that Alexandre is my long time teacher and friend and I'm always looking forward to train and discuss with him, which gives me new horizons to life and training."—Markku Juntunen, Alliance-team member and first Brazilian Jiu-Jitsu black belt in Finland

"I earned my black belt with Gigi in 2000 and got my first world title in the black belt. I am inspired by his actions on and off the mat."—Fernando Augusto da Silva, two-time Brazilian Jiu-Jitsu World Champion