Period (Cooper) (Paperback)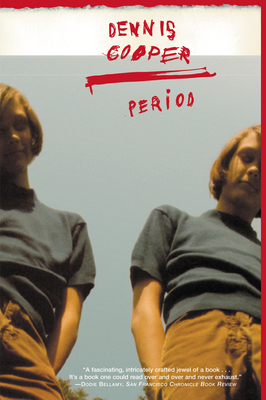 $11.00
Email or call for price.
Description
---
The stunning conclusion to Dennis Cooper's five-book cycle, Period earned its author the accolade a disquieting genius by Vanity Fair and praise for his elegant prose and literary lawlessness by The New York Times. The culmination of Cooper's explorations into sex and death, youth culture, and the search for the ineffable object of desire, Period is a breathtaking, mesmerizing final statement to the five-book cycle it completes. Cooper has taken his familiar themes -- strangely irresistible and interchangeable young men, passion that crosses into murder, the lure of drugs, the culpabilities of authorship, and the inexact, haunting communication of feeling-and melded them into a novel of flawless form and immense power. Set in a spare, smoke-and-mirror-filled world of secret Web sites, Goth bands, Satanism, pornography, and outsider art, Period is a literary disappearing act as mysterious as it is logical. Obsessive, beautiful, and darkly comic, Period is a stunning achievement from one of America's finest writers.