Barn: Preservation & Adaptation (Paperback)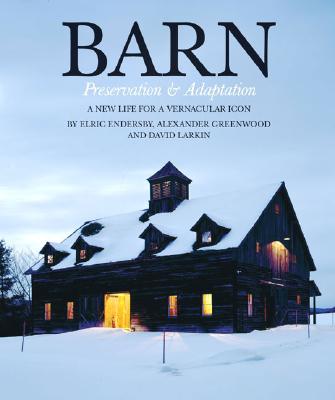 $39.95
This item is out of stock with our warehouse. Some recently published books may be in stock @ Room. Email to check.
Description
---
In the vernacular vocabulary of America, the barn stands proud, a hulking icon in the agricultural landscape. Unlike a house, the barn is chaste. For this is a place for work—a space rubbed by livestock and worn by labor. The repeating patterns of the posts and beams, now considered impediments to efficient farming, mask the very intricacy that gives old barns their intrinsic character. Many of these splendid spaces now lie empty, festooned with cobwebs, awaiting collapse, but there is a growing recognition that these honestly framed buildings can lend themselves to transformation and a new purpose.

In the decade-plus time since BARN: The Art of a Working Building was published, there has been a remarkable growth in the different ways that barns can be preserved and reinvigorated. There are many great barns that may not survive, and many problems with others still standing that remain with their integrity intact, but action is being taken.

BARN: Preservation & Adaptation chronicles and expands upon the progress being made, emphasizing the variety of imaginative uses that can revive these beloved structures. With more than 400 exciting photographs, drawings, and plans, and a lively text by the same team of expert barn restoration practitioners who brought you BARN: The Art of a Working Building, here are accounts of barns as retreats, studios, shops, meeting places, inns, restaurants, galleries, and museums—even sheltering swimming pools—showing the conversion to domestic use, and barns as barns again. The story, rich in historical detail, covers the problems of reinterpretation and barn culture informatively and critically, yet with great optimism and enthusiasm. The true companion to its highly successful predecessor, this book will delight all those who love and want to explore these grand monuments.
About the Author
---
David Larkin is a book designer, editor, and art director who has traveled the country over the past decade working on his visual book documentaries that record American history through its buildings, vernacular architecture, rural life, material culture, and design. He is the author of numerous books including the American Masterworks series, Farmhouse (2005), Barn (2003), American Home (2001), and The Treehouse Book (2000). He lives in Cherry Plain, New York.

Elric Endersby is the founder and partner with Alex Greenwood of The New Jersey Barn Company, which has relocated more than a hundred threatened structures. He is a frequent lecturer who has organized a number of barn documentation surveys and serves on various preservation groups. Endersby studied the history of architecture at Trinity College, Hartford, and history and American folk-life at the Cooperstown Graduate Program. He is also founder and director of the Princeton History Project, and edited The Princeton Recollector for 12 years.

Alexander Greenwood's interests have centered on rural topics and traditional architecture, working as a restoration carpenter before studying historic preservation at the University of Pennsylvania Graduate School of Fine Arts. His works include Barn: The Art of a Working Building and Barn: Preservation & Adaptation: The Evolution of a Vernacular Icon. He lives on a small farm outside of Lambertville, New Jersey, with his wife and their three daughters.