Long Black Curl (Tufa Novels #3) (Paperback)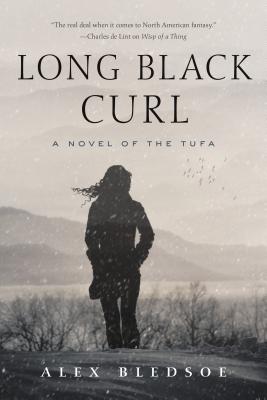 $16.99
Usually Ships in 1-5 Days
Description
---
Star-crossed lovers reunite in Long Black Curl, part of Alex Bledsoe's acclaimed contemporary fantasy series, where fairy magic is hidden in plain sight and age-old rivalries simmer just beneath the surface

"Reading Long Black Curl makes me so happy that there are authors writing real North American-based mythic fiction: stories that incorporate the Americas where many of us live, infusing them with their own folklore and mythology-one that sits so well it feels like it's always been a part of us." --Charles de Lint
In all the time the Tufa have existed, only two have ever been exiled: Bo-Kate Wisby and her lover, Jefferson Powell. They were cast out, stripped of their ability to make music, and cursed to never be able to find their way back to Needsville. Their crime? A love that crossed the boundary of the two Tufa tribes, resulting in the death of several people.
Somehow, Bo-Kate has found her way back, and fueled by vengeful plans to change the town forever. The only one who can stop Bo-Kate is Jefferson, but even he isn't sure what will happen when they finally meet. Will he fall in love with her again? Will he join her in her quest to reign over the Tufa? Or will he have to sacrifice himself to save the people who once banished him?
Enter the captivating world of the fae in Alex Bledsoe's Tufa novels
The Hum and the Shiver
Wisp of a Thing
Long Black Curl
Chapel of Ease
Gather Her Round
About the Author
---
ALEX BLEDSOE is the critically-acclaimed author of the Tufa novels The Hum and the Shiver, Wisp of a Thing, Long Black Curl, Chapel of Ease, and Gather Her Round as well as the Eddie LaCrosse series: The Sword-Edged Blonde, Dark Jenny, Burn Me Deadly, and He Drank, and Saw the Spider.