Johnny Hiro: Half Asian, All Hero (Paperback)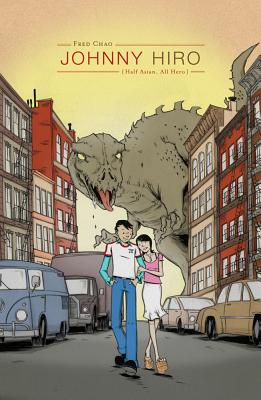 Description
---
Johnny Hiro, a hardworking busboy, lives in Brooklyn with his flighty but lovable girlfriend Mayumi. Every day, he struggles to make ends meet while fighting giant monsters, running over rooftops from crazed waiters, fending off businessmen-turned-samurai, or having the occasional conversation with Judge Judy, Coolio, or Alton Brown. With Fred Chao's signature style and laugh-out-loud humor, "Johnny Hiro "presents the quirky trials and misadventures of a modern-day hero trying to find his slice of the good life.
This delightfully absurdist romp through the trials and chores of living in New York was nominated for four Eisner Awards, including for best new series, and for the Russ Manning Award. It was selected for the anthology "Best American Comics 2010." Prepare to be blown away by the greatest adventure of them all: being an adult.
About the Author
---
Fred Chao was born in 1978 in San Francisco, CA. His comics have appeared in Found: Requiem For a Paper Bag. Johnny Hiro: Half Asian, All Hero is his first graphic novel, which has been nominated for four Eisner Awards, and parts of which appeared in The Best American Comics 2010. He lives in Brooklyn. He has no cats.
Praise For…
---
"It's rare that a new series will grab you by the back of the head and smack your face into a soft, comfy cushion of fun goodness. Yet that's exactly what Johnny Hiro does. It's hard to describe in the usual Hollywood pitch-style loglines—"Scott Pilgrim meets Bruce Lee and dates an adorable girl in a fantastically weird New York City" is about as close as you'll get, but even that doesn't convey the pure energy and enthusiasm evident in every panel of Johnny Hiro."  —Boing Boing
"My favorite kind of illustrated story is the one in which both the art and writing is done by the same person. Consider the work of Terry Moore (Strangers in Paradise and Echo) and Jeff Smith (Bone and Rasl). And now I can add Fred Chao to that list."
—Charles de Lint, award-winning author of Widdershins
"It's not often I find a comic that makes me snicker on one page and then touches me right there on the next, but Johnny Hiro is one such comic, and it's hard to imagine a comics audience that its mixture of silly humor and serious storytelling—and the light, airy art and strong sense of location that serves it—wouldn't win over."  —J. Caleb Mozzocco, Newsarama
"The feeling that pervades Johnny Hiro is one of sincere, unaffected affection. It's the kind of book you'd be tempted to call sweet, if it weren't so clear-eyed and thoughtful. Call it winning, then. And pick it up."  —Glen Weldon, NPR's Monkey See blog