The New Dinosaurs (Paperback)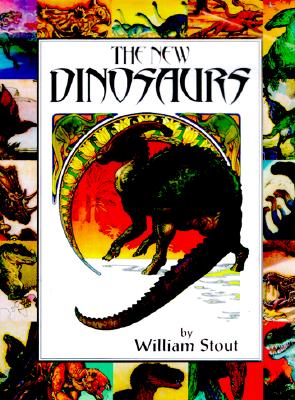 $28.95

In stock with our warehouse--usually ships within 1-7 days. May or may not be in stock at Room.
Description
---
Here are dinosaurs as you've never seen them before in a dramatically expanded new edition of the book that started the renaissance in dinosaur books. Here are dinosaurs that are swift, stunning, scary and stupendous., presented in a lavish format. Using the latest paleontological research, The New Dinosaurs presents a scientifically accurate look at the way dinosaurs lived: how they moved, ate, dueled, drank and mated. From ten-ton brontosaurus to thirty-foot hadrosaurus, here is a story more fantastic than fantasy itself
"This book travels you wonderously in time and lands you where you've always wanted to be: cheek by jowl with the mighty samurai lizards..."--Ray Bradbury
"Nothing changes like the past." No part of the past has changed more in the last few decades than our picture of the dinosaurs. When William Stout drew the pictures for the first edition of Dinosaurs, in 1981, the ancient reptiles were big, lumbering brutes, cold-blooded slowpokes driven to extinction by the wily mammals eating their eggs. Now they're still big, but that's almost the only point that hasn't changed. Warm-blooded, feathered, nest-building, under attack from outer space; what's not to like? No wonder dinosaurs have become so popular.
Stout is a comic book and record album artist who has been a designer for movies such as Dinosaur His dinosaur paintings have an Art Nouveau quality, with strong, flowing lines and glowing colors. Not hyper-naturalistic, they are beautiful and dramatic, like the highest-quality manga or illustrated novels. The book's text is in the present tense, and is vivid and novelistic:
Othnielia slowed down when he came to the bank of a wide creek. Near it, a neuropteran was perching in mid-air. The span of its wings was close to that of othnielia's fingered feet, which spread as he crept up on the dragonfly.
The New Dinosaurs will fire the imaginations of dinosaur lovers of all ages. --Mary Ellen Curtin