Cricket: 99.94 Tips to Improve Your Game (Paperback)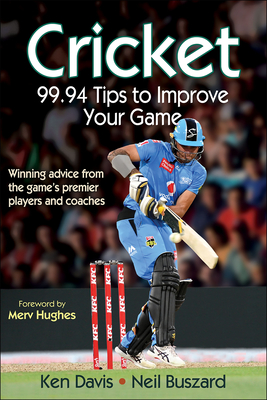 $13.95

Usually Ships in 2-7 Days
Description
---
The great Sir Donald Bradman's test-match batting average of 99.94 is an achievement matching that of any other sporting great. Now, you can achieve greatness as well with Cricket: 99.94 Tips to Improve Your Game.
In this one-of-a-kind collection, the world's top players and coaches share their secrets, guidance and advice on every aspect of the game. From batting to bowling and fielding to coaching, Cricket: 99.94 Tips to Improve Your Game covers it all.
With contributions from Merv Hughes, Brad Hodge, Cameron White, David Hussey, Belinda Clark and a host of others, you will learn something new on every page. Best of all, you'll learn to develop the special skills and qualities to achieve greatness in today's game.
Whether you're still learning the game, polishing your skills or coaching your team to another championship, Cricket: 99.94Tips to Improve Your Game is the practical guide you should not be without.
About the Author
---
Dr. Ken Davis has played and coached cricket at a high level, coached both men's and women's teams and provided support to players as a sport psychologist. In 1975 he completed a master's degree in physical education in Perth, Western Australia, where his thesis on cinematographic analysis of fast bowling in cricket became the catalyst for over 30 years of research into this explosive and often potentially harmful motion. In 1989 he completed a PhD in sport psychology from Florida State University. He has worked with several elite athletes and teams in the role of sport psychologist, most notably with the Geelong and Richmond football teams in the Australian Football League. Since 2000 Ken has worked at Cricket Victoria in a variety of roles, including coaching the successful Victorian Spirit women's team as well as leading the Australian women's youth team on tours of New Zealand and Sri Lanka.
Neil Buszard played over 300 games of Premier cricket and had a division of the Victorian Premier Cricket competition named in his honour during the 2006-07 season. He was also a very successful baseball player, representing Australia as a third baseman and also winning the coveted Helms Award as the best player in Australia. Graduates of Buszard's innovative and balanced training programme have become elite cricketers, and many have made their mark in other fields as well, including cricket administration. Neil has great people skills as well as cricket skills: His unbridled enthusiasm for the game, coupled with his energetic and thoughtful approach to performance enhancement, has long placed him at the forefront of coaching in Australia.
Praise For…
---
"Practical, accessible, and easy to follow! Reading this book means you'll need a bulletproof excuse for why you managed to run out your skipper yet again. It also contains a Bradman reference—what's not to like?"
Ed Davis -- All Out Cricket Magazine
"Setting goals early provides a focus for young players, but achieving the goals takes dedication, ability, and a well-developed technique. The tips in this book provide the foundation for the continued development of every young cricketer."
Arnie Sidebottom -- Former Yorkshire and England Fast Bowler