Make This Book Wild (Paperback)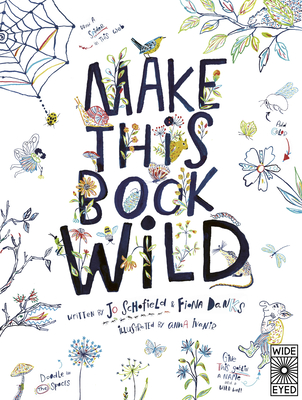 $16.99

In stock with our warehouse--usually ships within 1-7 days. May or may not be in stock at Room.
Description
---
From the authors behind The Stick Book and many other outdoor adventure favourites, this interactive one-of-a-kind creative scrapbook offers children an outlet for creativity inspired by the wild world. 
 
This truly unique book contains prompts for all kinds of creative activity based around the natural world around us, from drawing to writing to mixed-media collage.
 
Readers will be encouraged to draw on their creativity, to express themselves without fear of being judged, and to make their book really WILD!
 
They will need scissors, pens, paints, tape, glue and a magnifying glass, plus lots of wild materials and their wildest creativity, as this book becomes filled with keepsakes from their own outdoor adventures.
 
From finding the faces hidden in pictures of trees, to collecting ingredients for a spell to keep nature safe, to sticking the feathers back onto a mythical bird, these prompts and activities will provide hours and hours of entertainment as they take children on flights of fantasy through the natural world.
 
Readers can colour outside the lines, do the activities in any order and go at their own pace.
 
The mixture of art, creative writing, collecting, games, wildlife-watching and imaginative prompts will appeal to kids with all kinds of interests, and there are no rules!
 
About the Author
---
Jo Schofield gained a degree in psychology from Exeter University and began her career working for an educational psychologist in London. After getting involved in the production of a film, she went on to work in the creative department of a TV advertising agency where she began taking still photographs. This led on to her becoming a commercial photographer in Australia and then London. She worked mainly for national editorial magazines such as Country Living. When her children were small she worked in Watlington Primary School and the Dragon school in Oxford, applying her creative knowledge to the classroom with children aged 6-9 years. More recently she has been focusing on writing and photographing for a series of books with co-author Fiona Danks. Jo lives near Watlington in Oxfordshire.Through their website www.goingwild.net Jo and Fiona provide more ideas for outdoor activities and an opportunity for debate on the importance of real world adventures for all young people.For more information on how to encourage children to go outdoors, visit Jo and Fiona's website click here
Jo Schofield is an environmental educator and author who works with her writing partner Fiona Danks to create beautiful books about the natural world. Fiona and Jo believe that reconnecting everyone with nature is vital if we are to understand our reliance on a healthy and biodiverse natural world, and ensure it is protected for the future. They believe that all children and families should regularly spend time outdoors in green spaces where nature can weave its magic upon them.  
Together they have been writing and photographing the Going Wild books for the last fifteen years. Through their books and website, they inspire families everywhere to get outside and become immersed in the natural world. They have run events, lead training courses for teachers and environmental educators, presented at conferences as keynote speakers, written articles, and they are helping to build the Leaves for Life Campaign (@joinleavesforlife) to raise awareness of the ecological emergency.. 
They both live at the foot of the Chiltern Hills in South Oxfordshire, where they enjoy natural history, walking and exploring the local countryside. For more information on how to encourage children to go outdoors, visit Jo and Fiona's website - www.goingwild.net  
Praise For…
---
"From the authors of The Stick Book comes a dynamic activity book combining creativity and outdoor adventure. Readers are encouraged to draw, write, play and add foraged materials to create a treasure trove of natural wonders." —The Bookseller

Be warned, your children might have to prise this creative book out of your hands. They can collect petals or leaves for collages, rewild a city street with drawings of greenery or decorate a butterfly.'—The Sunday Express

'If you are ready for a fun, outdoors challenge this Easter, in fact over the coming Spring and Summer months then authors Jo Schofield and Fiona Danks have the perfect one for you wrapped up in the pages of this book illustrated by Anna Avanir​.'—Armadillo Magazine

"this interactive one-of-a-kind creative scrapbook offers children an outlet for creativity inspired by the wild world."—BookTrust