Own Your Period: A Fact-filled Guide to Period Positivity (Paperback)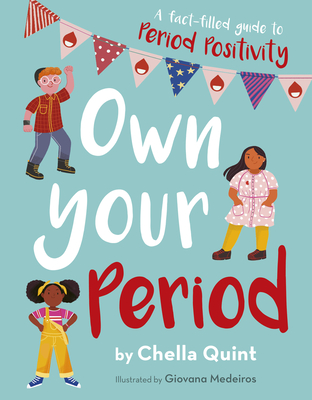 $14.95
This item is out of stock with our warehouse. Some recently published books may be in stock @ Room. Email to check.
Description
---
Having a period is an incredible thing – Own Your Period celebrates what the body can do and provides young people (age 9+) with everything they need to be prepared… and empowered.  
 
This fact-filled guide to periods is bursting with positive, honest advice on managing and understanding menstruation, covering every aspect of periods as well as lots of advice on puberty and growing up in a warm, friendly and reassuring way.

Topics covered include the fascinating science behind why things happen, with all the details of menstruation through to the menopause explained, as well as answers to all essential questions like what's a vulva and what does it look like, what do periods actually feel like, and what happens if blood stains your clothes?

Menstrual expert and educator Chella Quint's witty text slays superstitions, busts common myths and fights period shame, while providing practical information about menstrual products, tracking cycles and sharingher own personal stories.
 
Funny, insightful and warm illustrations with friendly chatty text makes this an everything-you-need-to-know essential handbook, which pre-teens can refer to before their periods start, and will appreciate when their cycle is more established. 

This complete guide will prove an invaluable companion to any young person about to start their first period, and will help them embrace their cycle with positivity and pride, and grow into healthy, happy people!
About the Author
---
Chella Quint is a writer, performer, and designer, born in Brooklyn, New York, and now based in Sheffield, England. She studied at NYU Tisch School of Arts before moving to the UK for grad school. While teaching middle school drama and health, she started using humor and joy to challenge attitudes to periods through her show, Adventures in Menstruating. She became a leading expert on menstruation in the UK, advising on regional and national policy on menstruation education and period poverty. Chella writes, performs, and designs interactive projects inspired by science, health, and social justice. Chella coined the phrase "period positive"  in 2006 and started the Period Positive movement to improve menstrual literacy. She created the Period Positive Pledge as a framework to help others develop inclusive menstruation policy and outreach. www.periodpositive.com
Giovana Medeiros is a Brazilian illustrator, based in Lisbon, Portugal. She graduated in Fashion Design at SENAI/Criciúma, Brazil, and went to Dublin to study a Higher National Diploma at BCFE. Giovana's work focuses mainly on children's illustration, but has also been applied to a series of different mediums such as books, magazines, textiles, advertising, games, and apps. She works mainly digitally, but in her spare time likes to explore traditional painting with watercolor and gouache. Her main inspirations come from nature, women, daily life, literature, and her travels. 
Praise For…
---
"A bright, informative guide to period positivity."
—
Kirkus Reviews
A leading UK expert on menstruation and founder of the menstrual discourse and social justice movement Period Positive, Quint brings her knowledge and humor to this upbeat, comprehensive guide to periods. Aimed at pre-teens before their first period or those who've recently started menstruating, it's also inclusive, using gender-neutral language, such as "people who get periods" or "period owners." Accompanying vibrant illustrations, featuring both diverse cis-gender girls and trans boys, echo this inclusivity. Divided into three sections, the guide begins with some basics, from female anatomy to what happens during periods to menstrual cycle phases. The second section focuses on managing periods, addressing topics such as what periods look like, techniques for charting one's cycle, menstrual supplies, and painful periods. In the final "Period Positivity" section, the author counters the historical shame of menstruation and negative imagery in the media with myth-busting and encouraging discussion. Quint shares snippets of her own period experiences throughout, making the material all the more relatable. An excellent resource for anyone new to periods. —
Angela Leeper
,
Booklist
"Honors the contemporary understanding of gender… A much-needed and extremely well-researched update to the menstrual canon."
—
Clara Hendricks, Cambridge P.L., MA
,
School Library Journal