Anti Gravity Device Company (Paperback)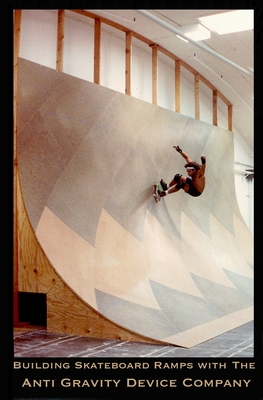 $9.99

Usually Ships in 2-7 Days
All sales of this book are final--it is print on demand and may take up to 2 weeks to arrive.
Description
---
How to Build a Skateboard Ramp...You might need a crane. This book is an old carpenter's memoir of building skateboard ramps and skateparks with his son in Hawaii and California. My 15 year old son and I attended the Santa Barbara, California premiere of a skateboarding movie, The Search for Animal Chin, May 5, 1987. What happened as a result is the subject of this book. It describes our experiences in the professional skateboarding world of Powell-Peralta and the evolution of our ramp-building, culminating in the construction of Powell's SkateZone skatepark at the company factory in 1990, and the fabulous SkateStreet skatepark in Ventura, 1997.This book's not about the stars of the skateboard world; it's more about the behind-the-scenes players like myself and Johnny and all the characters we worked and played with over the years, building skateboard ramps and skateparks.I've got thousands of photographs from those years and I'm in the process of creating a free website as a companion to the book. It will take me months to complete it, but in the meantime, the partially completed site will be up and running, as it is now. www.antigravitydevicecompany.com.